9 Ethiopian Athletes Under Investigation for Doping After Failing Tests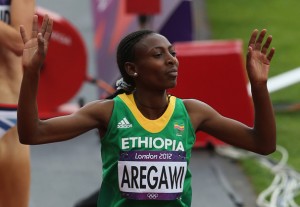 Ethiopia's Anti-Doping Agency has announced that nine athletes are being investigated for doping after they tested positive for banned substances.
Solomon Meaza, the general secretary of Ethiopia's anti-doping agency, said five of the nine runners under investigation are high-profile athletes.
"To be clear, some banned (substances) were found in five athletes," Meaza told AP. "They will be summoned and asked if they have taken any banned substances (or) chemicals."
Despite the revelation, officials have remained tight-lipped about the details of the investigation. The exact date when the doping tests were conducted has not been disclosed. The identities of the athletes and the names of the banned substances discovered in the tests have also not been disclosed.
Meaza explained that more testing is needed to prove that the athletes are indeed guilty of doping. "There is a real concern when the upcoming investigations arrive," he added.
The Ethiopian athletes in question are reportedly also being investigated by the International Association of Athletics Federations (IAAF) and the World Anti-Doping Agency.
This case is likely to shine the international spotlight on doping in Ethiopia, according to analysts. The attention of the IAAF could shift to the East African distance running powerhouse after investigations into Russian and Kenyan athletics last year revealed widespread doping and corruption.
Many fear that investigations into Ethiopia's athletics sector will deal another doping blow to the sport just months before the Rio Olympics. Reports indicate that whistleblowers have tipped international drug testers to focus on several Ethiopian athletes.
Ethiopia has reportedly been under the radar of international doping authorities for years now after evidence revealed loose anti-doping practices.
Meaza's announcement coincided with the IAAF suspension of Sweden's Ethiopian-born athlete Abeba Aregawi after she failed a doping test.
The former 1,500-meter world champion reportedly failed an out-of-competition test while training in Ethiopia. According to the IAAF, Abeba, who is suspended pending investigation, has requested for the testing of her backup "B" sample.
The Swedish Athletics Associations (SFIF) has expressed regret that Abeba tested positive for doping.
"It is with dismay and with extreme disappointment that we report this issue," SFIF general secretary Stefan Olsson said. "We totally reject all forms of cheating, doping…..we have a zero tolerance, and this is totally unacceptable."
Abeba, 25, has since been provisionally suspended by the SFIF.
Photo: Getty Images