UN Security Council to Visit Burundi after Nkurunziza Threatens Attack on AU Peacekeepers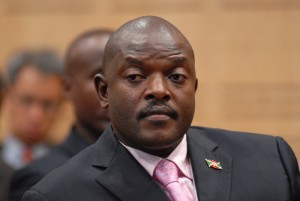 The United Nations (UN) Security Council is awaiting an official invitation from Burundi's embattled government to visit the country this month.
The United States initially proposed the visit in December to quell rising tensions. However, the importance of the trip became more evident this week after Bujumbura vowed to attack African Union (AU) peacekeeping forces.
"We think it's very important for the Security Council to travel to Burundi and are engaging to try to make that happen," said US Deputy Ambassador David Pressman.
"The situation is in flux, it's dangerous and merits the full attention of the council."
On Wednesday, Burundi's President Pierre Nkurunziza, whose decision to run for a third term in April led to widespread violence, rejected an AU peacekeeping plan.
In a national radio broadcast, Nkurunziza said the proposed 5,000 AU peacekeeping force would be invading Burundi if they entered its borders. He insists that the AU peacekeepers would be attacked as any "invasion force."
"Everyone has to respect Burundi's borders. In case they violate those principles, they will have attacked the country and every Burundian will stand up and fight against them," Nkurunziza said.
"The country will have been attacked and it will respond."
Nkurunziza's statement has been criticized by the AU and members of the international community who fear that the situation may escalate and degenerate into a civil war.
Burundi is still recuperating from an ethnic civil war between the Hutu majority and minority Tutsis. About 300,000 people were reportedly killed in the conflict which lasted from 1993 to 2006.
More than 200,000 people have fled Burundi since May after an attempted coup against Nkurunziza.
The AU has pledged to stop the violence from escalating into another massacre. The 54-member regional body has also pledged to send peacekeepers to Burundi despite Nkurunziza's threats.
"I think the fact that Nkurunziza has said he will attack African Union troops, it's not a blow to the AU," security analyst Stephanie Wolters told VOA.
"It makes his government look entirely irresponsible; it makes the government look like a government that doesn't want to resolve a crisis. The African Union now, of course, is going to have to figure out how tough it wants to be in response to that."
AU Commission chief Nkosazana Dlamini-Zuma has reportedly written to Nkurunziza to accept the peacekeeping force. The AU has also threatened sanctions against Burundi's rival factions if they fail to attend peace talks scheduled for January in Tanzania.
"All those whose action could jeopardize the inter-Burundian dialogue, including attacks by armed groups against government facilities and other targets, as well as refusal to respond to the invitation of the mediator, shall be subjected to sanctions," Dlamini-Zuma said.
Photo: CCTV Africa