Host Ethiopia Forbids Eritrea from Competing in 38th CECAFA Games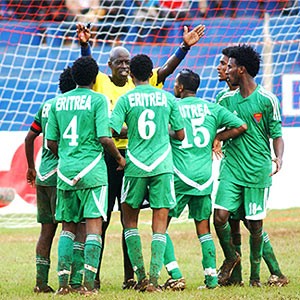 Eritrea's senior football team will not participate in an upcoming annual East African tournament because host Ethiopia has barred the players from entering the country for political reasons.
The 38th edition of the Council of East and Central African Football Association (CECAFA) tournament is scheduled to begin in Addis Ababa on Nov.21st.
CECAFA had previously announced that Eritrea will not compete in the tournament because the team failed to confirm their place. The sporting regional body did not provide reasons for Eritrea's decision to stay away.
However, Nicholas Musonye, CECAFA secretary-general, said Wednesday that Ethiopia's decision to bar the Eritrean team from entering its borders for the games must be respected. He did not specify the reason for the stance.
Addis Ababa has not made any public statements regarding the reasons for exempting the Eritrean team from participating in the regional football competition. Asmara has not made any comments too.
Reports indicate that the move may be due to continued tensions between the neighboring nations who fought a war from May 1998 to June 2000.
CECAFA temporarily banned Eritrea from the regional competition in 2013 after 24 players disappeared during a tournament in Kenya.
Eritrean athletes have a reputation for using international sporting events to seek political asylum. Over the years many athletes have successfully used sports to flee Asmara.
The recurring defection of Eritrean athletes has irked CECAFA and other sport event organizers.
Eritrea has denied United Nations accusations of mass human rights violations. However, thousands of Eritreans continue to flee the country yearly. In 2014, an estimated 35,000 Eritreans fled to Europe.
Last month, after losing a World Cup qualifying match to Botswana, 10 Eritrean footballers defected and sought political asylum from the host country. The southern African country has since granted them asylum.
However, last week, Botswana asked the United Nations Refugee Agency (UNHCR) to relocate the 10 Eritrean footballers to a third country. Botswana says it will not revoke the decision to grant them asylum. However, it stresses that relocation would benefit the players because according to law, they would have to stay in a refugee camp for 10 years before being fully integrated into Botswanan society.
In Eritrea's absence, CECAFA has invited Malawi to participate as a guest team. Musonye said several countries in the region expressed their interest in participating in the competition. However, Malawi got the nod because they officially sent in a request while others didn't.
The official draw for the Senior Challenge Cup is scheduled to take place today in Kenya's capital city Nairobi later today.
Photo: ESPN