Eritrea Football Team to Miss 2015 CECAFA Competition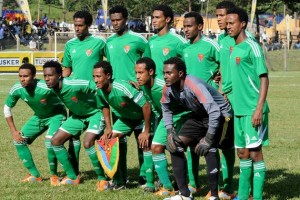 Eritrea's senior football team will not compete in an annual regional competition scheduled to begin in Addis Ababa, Ethiopia on the Nov. 21st. The team is believed to have been considerably weakened by the recent defections of 10 players
The Council of East and Central Africa Football Association (CECAFA) confirmed that Eritrea's football team will be exempted from this year's competition after failing to confirm their participation.
Nicholas Musonye, CECAFA Secretary General said all other countries set to compete in the 38th edition of the tournament have confirmed their participation – except Eritrea.
CECAFA banned Eritrea from the regional event after 24 players disappeared in 2013. However, it is not clear if Eritrea's decision to abstain from the event is due to the ban.
Musonye did not specify if Eritrea's absence from the competition is related to the concerns about Eritrean athletes using international sporting competitions to seek asylum. It is also unclear if Eritrea is abstaining from the competition because the team has been considerably weakened by last month's defection of 10 members of the squad, but some football pundits hold this view.
Last month, after losing a World Cup qualifying match to Botswana, 10 Eritrean footballers defected and sought political asylum from the host country. The players, who spent two weeks in a holding center, have since been granted asylum by the south African nation.
On Thursday, Botswana asked the United Nations Refugee Agency (UNHCR) to relocate the 10 Eritrean footballers because they would have to stay in a refugee camp for 10 years before being fully integrated into society, according to Botswanan laws.
Botswana stressed that they were not withdrawing the asylum just granted to the players. However, the athletes have been asked to either choose to live in a refugee camp for 10 years or move to another country with easier immigration laws.
The United Nations has accused Eritrea of mass human rights violations. Although the government has denied the accusations, thousands of Eritreans continue to flee the country yearly. In 2014, an estimated 35,000 Eritreans fled to Europe.
Photo: AFP