Gunman in Columbus, Ohio, Kills Somali Father in Front of Wife and 6 Kids During Robbery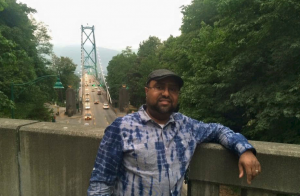 Police in Columbus, Ohio, are searching for a gunman who shot and killed a Somali man in front of his family during a botched robbery on Friday, Oct. 23.
The incident, which authorities have labeled as a random robbery, occurred at a busy parking lot located in northwest Columbus last week.
40-year-old Shueyb Abukar, his wife and six children were leaving the Golden Corral restaurant at 3710 W. Dublin-Granville Rd. when the gunman attacked them.
"I screamed at him. I said don't kill my husband, we have six kids. We are a family. I'II give you whatever you wanted. Don't shoot him," Amal Abukar, the widow recalls.
The shooter, who she says was wearing a red hood sweatshirt and Ohio State Buckeyes pajama pants, did not mind her cries. He shot Shueyb in the leg and in the back before fleeing with his wallet.
Authorities are still searching for the suspect and the getaway driver who helped him escape. No arrests have been made so far. However, the getaway car has been identified as a tan four-door sedan.
Amal said the horrible thing about the ordeal was that their little children witnessed the incident.
"The thing is, my kids were watching. He (Shueyb) was holding my two sons," she said."He was the sweetest dad, the sweetest husband. He did everything for us. That morning he fixed us breakfast. We had our coffee, we talked."
Shueyb was buried on Sunday. Friends and family members gathered for the solemn event. They remembered Shueyb as a peace-loving man who loved his family and wanted to keep them safe.
According to reports, Shueyb left his native Somalia in order to escape the war about 15 years ago. After arriving and working different jobs in the U.S., he recently moved from New York to Columbus with his family because the latter was safer.
Shueyb reportedly had plans of raising a family in central Ohio and had he recently bought a house on Minerva Avenue.
Shueyb's family say as Muslims they can forgive the shooter and his accomplice for their crime. However, they emphasized that the suspects must be brought to justice.
Reports indicate that the local Muslim community is raising money to put up a reward for anyone with information leading to the arrests of those responsible for Shueyb's death.
Amal doesn't know how to move on, especially because her little children keep asking for their father.
"Miserable. I haven't (eaten) in three days. I'm not feeling well. My little son- three and-a-half years-is crying for his daddy," she said.
"I need help from the public. I want this guy to come forward. I need the public to help me. Please, me and my six kids. We need justice."