Brooklyn Academy of Music presents Dinaw Mengestu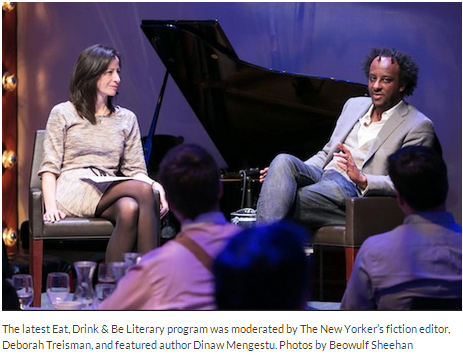 The Brooklyn Academy of Music hosted the latest installment of this year's Eat, Drink & Be Literary program Wednesday evening, shining its spotlight on Dinaw Mengestu. Born in Ethiopia, Mengestu's family immigrated to the United States when he was two, settling in Peoria, Ill. He has written three novels — "The Beautiful Things That Heaven Bears," "How to Read the Air" and "All Our Names," which was published last year.
Circulating among the tables as people ate and drank, Mengestu encouraged a few of his friends to drink a bit more wine before he spoke, and preemptively begged the audience's forgiveness for a cold he had been nursing when he took the stage. But once he began reading from the text of his new book, his apparent stage fright melted. The narrative stilled the air in the room and transported its occupants to a table in a small Midwestern diner, where a bi-racial couple wrangled with the intricacies of modern, quiet racism.
The story slowed down a common enough scene, deconstructing it into individual facets and allowing readers (or in the event's case, listeners) to examine each piece like an archaeologist turning over and scrutinizing an artifact in incredible detail. Mengestu moved beyond black and white — not only the couple's skin tones, but the way in which people often view racism and discrimination — to pause over often overlooked gray areas and examining their significance. For example, what is the meaning of a certain look, and how can someone take a stand against a feeling by continuing to eat a plate of eggs? Racism and human nature, he pointed out, are complex.
"We express discrimination much more quietly," Mengestu said after the reading, comparing modern times to decades past, when racism was, in general, more overt. "Loving v. Virginia happened in 1967; we're not that far from 1967. We have a code that makes us believe we've moved beyond these things."
In a discussion moderated by Deborah Treisman, the New Yorker's fiction editor and his onetime internship supervisor, Mengestu said it has been interesting to see a different interpretation of his story from its French Translation.
"Europeans think about America and want your stories to fit a narrative mold," he said. "They might think it proves America is full of racism, but I say, no, that's not the idea. You guys are really racist, too, but couch it in different terms."
Although he was born in Ethiopia, Mengestu said he didn't like to be filed under a category dedicated to immigrant authors. His parents, he said, gave him a new name that no one else had. It's not Ethiopian, but Americans don't see it as a "typical" American name either. The name, like his situation, placed him in a unique limbo between immigrants and native-born Americans as he developed.
"My father made up my name," he said. "He wanted a new name to signify what he wanted for the future — the old ones didn't work."
Writing, he said, became a way to find his place. Today, his place is as an author, and as an English professor at Georgetown University and Brooklyn College.
Source: