Ethiopians welcome a new year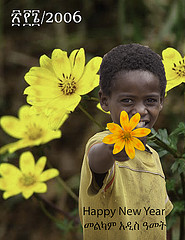 Ethiopians all over the world have marked the beginning of a new year on Thursday, Sept. 11th.
Unlike most countries in the world, Ethiopia continues to follow a dating system based on the ancient Egyptian Coptic calendar, which predates the more modern Gregorian calendar used widely.
Local sources say many celebrations were held across the country to commemorate the first day of the month of Meskerem, which is known as Enkutatash (gift of jewels) in Amharic.
President Mulatu Teshome has been quoted wishing the people of the Ethiopia a successful New Year. He also stressed on the importance of unity to realize the renaissance ambitions.
Representatives of nations all over the world have relayed congratulatory messages to the government and people of Ethiopia on this important occasion.
The Acting Special Representative of the Chairperson of the African Union Mission in Somalia (AMISOM) Hon Lydia Wanyoto has also extended a goodwill message to the people of Ethiopia.
She acknowledged the contribution of the Ethiopian National Defense Force (ENDF) to AMISOM's mission and noted that "the troops rely on immense support at home thanks to Ethiopia's national spirit of unity with its African brothers."
Several Ethiopians in exile have meanwhile lamented about the state of the country's democracy and rule of law that permits alleged gross violations of the human rights of dissenters. Others have reiterated the need for economic development to curb the rate of perilous migrations of Ethiopian youths to Europe and the Middle East in search of greener pastures.
The New Year, which symbolically falls at the end of the rainy season when yellow daisy flowers begin to bloom in Addis Ababa, is reportedly one of the most important occasions on the Ethiopian calendar.
Photo/International Livestock Research Institute