Burundi: Police investigating dozens of floating plastic wrapped bodies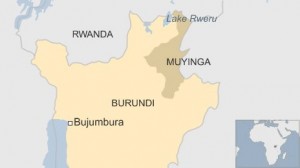 AFP-(Bujumbura) Fishermen in Burundi have found several corpses with limbs bound or stuffed in sacks, floating in a lake bordering Rwanda, government officials said on Tuesday.
At least 40 bodies have been found in the lake since July, according to fisherman in the Burundian town of Giteranyi, the president of their association Sadiki Nyandwyi told AFP by telephone.
Burundi's government confirmed corpses had been discovered but could not give a total figure.
"There are many bodies, some tied, floating on Lake Rweru, although probably the figure of 40 reported by fishermen is exaggerated," Burundian Interior Minister Edouard Nduwimana said.
"But it is certain that there are many floating bodies in the lake."
Investigations
Five have been found in the past week, local government officials said.
On Monday, a joint Burundi-Rwanda government and police team discovered three bodies, two of them wrapped in a large bag, according to local government officials.
Nduwimana said that while the fisherman reported the bodies had been carried into the lake from the Akagera river, downstream of Rwanda, it was not yet possible to confirm where they had come from.
"Investigations are needed to confirm whether or not these bodies come from Rwanda, or whether they were thrown into the lake from Burundi," he said.
Rwandan police on Tuesday "refuted claims that victims killed and thrown in Lake Rweru…were Rwandan citizens", the force said in a statement.
Political violence
"There are no missing Rwandans among the bodies," senior Rwandan police officer Theos Badege said.
The Akagera river originates in Rwanda before flowing into Burundi and Tanzania, and emptying into Lake Victoria.
During the Rwandan genocide in 1994, bodies of some of those killed floated down the river.
In 2006, bodies of Burundian opponents murdered in political violence were also thrown into various rivers in the country.
Burundi emerged in 2006 from 13 years of brutal civil war, and its political climate remains fractious ahead of presidential polls due in June 2015.
Neighbouring Rwanda is led by strongman President Paul Kagame.
He has been credited with overseeing dramatic economic advances while in office, although he has also come in for mounting criticism for suppressing dissent, including the alleged assassinations of exiled opposition figures.