Ethiopia turns to transformers to curb power failure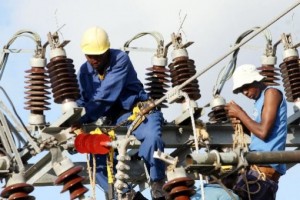 The Reporter (Addis Ababa) – In a bid to curb the recurrent power cuts, the Ethiopian Electric Services has installed 248 transformers in Addis Ababa and the regional states.
The new transformers are expected to augment the existing old transformers which can hardly cope with the ever- increasing power load. In an exclusive interview with The Reporter, Alemyehu Tegenu, Minister of Water, Irrigation and Energy, said that there was no shortage of electric power in the country. Alemayehu said the cause of the power cuts is related to the old power distribution lines. According to him, the power distribution network and the electric transformers are over-loaded.
Alemayehu said the power consumption trend in the country is changing. "Previously residents of Addis Ababa used biomass fuel. Now people use electric power to cook. The rapid investment activity needs more energy. The existing power generation capacity is adequate to accommodate the existing demand. However, the aging distribution system is unable to handle the ever-increasing power demand," Alemayehu said.
Electric transformers in Addis Ababa are exploding in every nook and corner. Residents of Addis Ababa question the quality of the transformers. However, Alemyaheu said that the problem got nothing to do with the quality of transformers. "All the transformers are tested before they are installed. The problem is that there is a high power demand that the transformers at times are unable to accommodate. The power load is too high for them."
According to the Minister, to mitigate the power cuts the Ethiopian Electric Services has installed 248 supportive transformers all over the country. A Chinese power company, China Hydro, hired by the Ethiopian Electric Services has installed 170 of the supportive transformers. "We have noted some improvements and we will install more supportive transformers based on the need assessment we undertake."
Alemayehu said the old transmission lines are being replaced with the new ones, adding that hundreds of new substations are being installed. "We have built new substations in Sebeta, Sululta and Akakai towns," he added.
The country now has an installed generation capacity of 2,268 MW from hydro, wind, geothermal and thermal energy. The electric power demand is increasing at a rate of 32 percent every year. Every year more than 700 MW of new power demand is created due to the flourishing manufacturing sector. According to the minister, the current demand for electric power is more than 2000 MW.
The Ethiopian government is currently building power plants with a total installed generation capacity of 8450 MW. The Grand Ethiopian Renaissance Dam (6000 MW), the Gilgel Gibe III (1870 MW), Genale Dawa (254 MW), Adama II wind power project (153 MW) and the 70 MW geothermal power development project in the rift valley are the ongoing power projects that will rescue the country from power crisis.
Photo/EthiopiaForums