Kenya bars travelers from Ebola-affected countries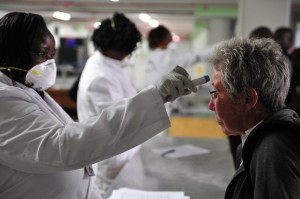 CAPITAL FM (NAIROBI) – The Ministry of Health has, on Saturday evening, announced that it will not allow passengers from Liberia, Sierra Leone and Guinea into Kenya from Tuesday.
Health Cabinet Secretary, James Macharia explained that the decision was informed by a World Health Organisation report that the Ebola outbreak in the three countries has been on the increase and is expected to continue.
"WHO has indicated that there are possible consequences of further international spread, particularly in view of the virulence of the virus, the extensive community and health facility transmission in the affected countries," he explained.
"WHO has admitted that the magnitude of Ebola outbreak in West Africa was vastly underestimated and the current outbreak is expected to continue for some time," Macharia continued.
He said that the directive is effective from Tuesday midnight and that it will affect all other points of entry into Kenya.
However, he said the decision excludes health professionals involved in containing the outbreak as well as Kenyans returning home from the three countries.
Though such passengers will be allowed to enter Kenya, Macharia said, "they will have to undergo extensive screening and the after close monitoring and where necessary shall be quarantined."
He explained that passengers from Nigeria and Ghana will still be allowed into Kenya since the magnitude of the outbreak is not as high as in the other three countries in West Africa.
Medical Services Director Nicholas Muraguri further explained that the decision was also arrived at after five alerts on Ebola cases from several hospitals and the airport in Kenya were received.
"The first one was a Liberian national transiting through Jomo Kenyatta International Airport to India. The second was a Nigerian who had visited Kenya on 8th August but became ill while in Nairobi. The third one was a Zimbabwean who works in South Africa but was travelling to Sierra Leon. The fourth was Nigerian who reported to AAR clinic with suspected symptoms," he explained.
However he said after assessment all the four cases were negative of the virus.
Following the decision, Kenya Airways announced temporary suspension of its flights to Sierra Leone and Liberia where it operates.
Incoming Chief Executive Officer, Mbuvi Ngunze said all affected passengers who had booked flights and were affected by the suspension will be compensated.
"As we have indicated before, we are dependent on expert advice for our continued operations from Ministry of Health and WHO. Following the Ministry of Health statement issued today, Kenya Airways wishes to confirm that we will comply with the advice to suspend our commercial flight operations to Liberia and Sierra Leone temporarily," he asserted.
"Kenya Airways will continue operating all its scheduled flights to Nigeria and Ghana. However, in the interest of public safety for both our esteemed guests and staff, we reserve the right to cancel our flights to any other destination should the situation warrant."
The Ebola outbreak has so far claimed 1,145 lives and left 2,127 infected according to WHO which has warned that the disease is 'extraordinary' due to the risk of international spread.
Photo: Simon Maina/AFP