Kenya: Mobile money transfers hit record amount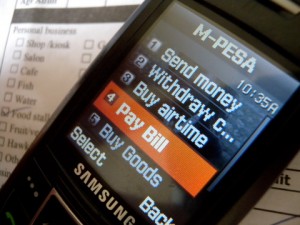 The Central Bank of Kenya has revealed that mobile money customers made transactions worth about KES 1.1 trillion between January and July this year.
This represents a tremendous increase from 872.1 billion during the same period in 2013. Experts say the latest figures reflects the increasing growth in the market spurred by tough competition among mobile money service providers.
Mobile money service was introduced into Kenya by Safaricom in 2007. The service quickly caught on and has become widely adopted throughout the country.
Experts have rated Kenya's mobile money service as the most successful in the world. The service, which was originally conceived as a way for people in the city to send money to their relatives in the rural areas of the country, has been adopted for a wide range of other purposes. Today, mobile money is used in virtually all transactions including settling a cab, paying school fees and doling out salaries to employees.
Safaricom's M Pesa is reported to currently have the largest market share. However, other companies, including Airtel Cash, yuCash, Lipa Sasa, MobilCash and Zap, have made inroads into the company's dominant position in the market.
The Central Bank also disclosed that about 1 million new subscribers and 6,600 new agents have signed up for the service since January. This brings the total number of mobile money subscribers and agents to 26 million and 120, 289 respectively.
This year the Communications Authority of Kenya has granted mobile virtual network operator licences to four companies. One of these new operators – Equity Bank – is set to launch its mobile banking service soon and this is expected to support the rapid growth of the service.
Executives from the bank have noted that the affordability and accessibility of the service will appeal to their low-income customers. Equity Bank is one of the largest banks in the country with about 8 million customers.
Photo/The Habari Network