Kenya: Attacks in Lamu County widens political division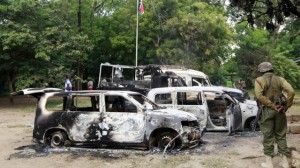 A raging debate over the perpetrators of two deadly terrorist attacks in the coast this week, is threatening to push the country down the brink of stability.
Following the attacks, which left about 70 people dead, the Somalia-based Islamic extremist group, al Shabab, were accused of complicity. The group later claimed responsibility for the attacks.
However, on Tuesday, President Uhuru Kenyatta blamed local political groups, for what he described as ethic violence.
While reports that a majority of the casualties are Kikuyu people seems to support the President's claim, many critics have condemned the comment saying it will create undue tension in the deeply divided nation and possibly compromise the investigations into the incident.
The president's analysis of the situation is also consistent with al Shabab's recent comments that Mpeketoni was originally populated by Kenyan-Somali Muslims before it was invaded and occupied by predominantly Kikuyu Christians.
Former Prime Minister Raila Odinga, whose Coalition for Reform and Democracy (CORD) has been identified as the most likely suspects, has described the president's statement as "unfortunate and unjustified."
He noted that "CORD condemns the massacres in Mpeketoni and states categorically that violence is not a means of achieving legitimate political aims or objectives."
He also urged President Kenyatta to desist from blaming other political groups and tackle the lapses in the country's security.
Mr. Odinga, whose allegations of electoral manipulation during the 2007/08 presidential polls led to ethnic clashes during which hundreds of Kikuyu people were killed, has threatened the government with mass protests next month if his party's concerns about the country's security and the general performance of the Jubilee administration are not addressed.
Critics say the President's dismissal of al Shabab's statement claiming responsibility for the attack as well as intelligence reports linking Somali suspects to the killings reeks of a sinister motive to politicize the incident in order to win popular support.
The Financial Times quotes a western diplomat explaining that "this government is only making things worse by sowing the seeds of national division and raising ethnic tension to the roof at a time it should be talking about national unity."
Local sources say there have been protests in Nairobi and Mombasa this week over the president's contentious statement.
Several top officials and members of opposition groups have accused the country's security agencies of failing their mandate and reiterated calls for the withdrawal of Kenya Defence Force (KDF) from Somalia.
al Shabab spokesman, Abdulaziz Abu Musab, who disclosed that the terrorists were behind the attack, has urged " Muslims in Kenya to fight for their dignity as there is no neutral middle ground now."
"Your religious leaders were killed, your daughters were raped, your property was looted," he said, in reference to the African Union Mission in Somalia (AMISOM), where Kenyan forces have been stationed since 2011.
But on Wednesday, Deputy President William Ruto noted that "Kenya is not going to walk away from its duty as a responsible neighbour, we are going to stay engaged under the AMISOM arrangement until stability is realised in Somalia."
Mr. Ruto, who made this revelation during a joint press conference with Prime Minister Abdiweli Sheikh Ahmed of Somalia, further disclosed that investigations into the attacks in Lamu County have been opened and several top officers – who have been accused of failing to act on intelligence reports of the attacks – have been interdicted and will be arraigned in court.
Local sources say the authorities have also arrested several people in connection with the attacks. Reports indicate that among the suspects is the owner of one of the Nissan minibuses used in the raid, as well as the driver of one of the vehicles.
Many people are reported to have fled the county due to fears of a repeat attack – despite heavy security presence. However, officials say efforts are underway to distribute emergency relief items among locals.
Meanwhile, on Wednesday, Kenya and Israel vowed to share intelligence and technology to improve the efficiency of the security agencies in both nations and curb the possibly of successful terrorist attacks.
The Israeli Deputy Prime Minister and Minister of Foreign Affairs, Avigdor Liberman, who is currently in Kenya on a rare ten-day Africa tour, underscored the fact that both countries are facing similar challenges of radicalism and religious extremism.
"We need to reduce bureaucracy on issues of sharing security information, the same terror groups like Hamas, ISIS in Iraq, Boko Haram in West Africa and Al-Shabaab share information and network to cause evil; we therefore don't need too much formal systems which sometimes hinder those involved in responding to security threats," he said.
On his part, President Kenyatta highlighted the fact that the key to defeating terrorism is through co-operation.
"That is what I have been telling our friends especially from the West. That they don't need to issue any travel advisories to their citizens but rather to encourage them to not only travel but also invest in Kenya," he said.
Reports indicate that both countries are also set to sign co-operation agreements in other areas, including medicine, agriculture and technology.
Photo: 24Tanzania