South Sudan: Government and rebels to pen final ceasefire agreement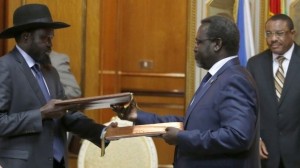 President Salva Kiir and Riek Machar will meet in Addis Ababa on Monday to discuss the way forward for young, war-torn South Sudan.
Rebel spokesman, Yohanis Musa, told the press in Khartoum last week that both sides will begin to map out plans for the future; including the formation of an interim government.
"We are sticking to our proposal for a one-year period for the transitional government followed by a General Election, besides the importance of implementing the federal system to solve the crisis of governance and the distribution of wealth and power in South Sudan," he said.
Reports indicate that the Intergovernmental Authority for Development (IGAD) has completed a multi-stakeholder symposium in Addis Ababa this weekend aimed at promoting peace and reconciliation in South Sudan.
Heads of States from the regional trading bloc are expected to also meet in the capital of Ethiopia this week to discuss the next phase of the peace process in the country.
But Mr. Musa has noted that the rebels' delegation will not attend any meeting in which representatives of the Ugandan government will be present. The rebels have since accused the Ugandan government of exacerbating the conflict and have demanded the withdrawal of the Uganda People's Defence Force (UPDF) from South Sudan.
Mr. Musa threatened that the rebels will shut down the country's oil pipelines if their demands are not met. According to him, the rebels are currently in control of about 50% of the country's oil wells in Unity and Upper Nile State.
Local sources say government and rebel forces clashed in at least one state this weekend.
Meanwhile, Human Rights Watch (HRW) has petitioned the mediators to ensure the peace deal includes a commitment to prosecuting perpetrators of serious war crimes.
Thousands of people have been killed and more than one million displaced from their homes since violence broke out in the country last year. The United Nations and other observers have accused both sides of various atrocities; including ethnic-based massacres, looting and the destruction of properties.
According to the director of HRW for Africa, Daniel Bekele, the confidence of the perpetrators to carry out these "devastating" atrocities stems from the country's history of exonerating war crime offenders.
"The mediators need to break with the past by ensuring that amnesty for serious crimes is not on the table," he said.
Photo/BBC