UN Secretary General urges President Kiir and Riek Machar to meet next week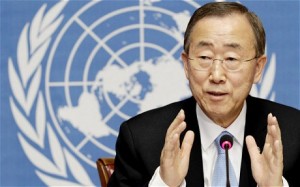 The United Nations Secretary General, Ban Ki Moon, has directed the leaders of the factions involved in the ongoing war in the world's youngest nation to honour their agreement to meet this month.
The UN press office, which announced this development, revealed that Mr. Moon has been in touch with both President Salva Kiir and Riek Machar on Wednesday.
Both men had reportedly agreed to meet monthly to review the progress of the implementation of their two ceasefire agreements in May.
The Secretary General exhorted the two men to honour this agreement and also commence preparations for the formation of a transitional government.
Mr. Moon also condemned several reports of violations of the ceasefire agreements and welcomed the deployment of the Intergovernmental Authority for Development (IGAD) peace-keeping force as part of its monitoring and verification mechanism.
He further charged the president to co-operate with the United Nations Mission in South Sudan (UNMISS) in the execution of its new mandate.
The six-month insurrection has shaken the foundations of South Sudan. More than one million people are estimated to have been displaced and an unknown number of others killed in the fighting.
Humanitarian groups have warned that the war-torn country risks descending into a famine if the violence does to subside to allow farmers plant before the rainy season fully begins.
Meanwhile, the government seems to be in tatters. More than five top officials have abdicated their posts this month citing problems with the government's handling of the ongoing conflict. The peace talks between the warring factions also failed to resume this week.
However, reports indicate that a three-day summit on South Sudan, organized by IGAD, commenced in Addis Ababa on Thursday. Over a hundred delegates representing different social interests are expected to attend the gathering aimed at fostering multi-party dialogue and reconciliation.
Photo/Reuters