South Sudan: Cholera infections drop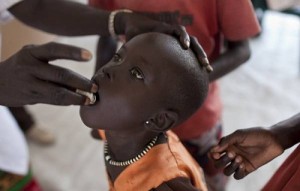 The number of people diagnosed daily with cholera in Juba has dropped significantly since the outbreak of this deadly communicable disease was officially announced in the middle of last month.
According to the Minister of Health, Riek Gai Kuk, the state and its partners – including the United Nations and some non-governmental organizations – have embarked on an exercise "to defeat cholera."
He revealed that the group have been engaged in awareness campaigns and surveillance programs in local communities.
Mr. Kuk disclosed that about 1,124 cases of the disease have been recorded as at June 1st. He also noted that national laboratory has been able to independently complete the diagnosis of patients for the first time.
Officials say about 27 people have lost their lives to the disease thus far.
Meanwhile, the World Health Organization (WHO) has announced that the disease is quickly spreading outside Juba.
Reports indicate that instances of cholera infection have been recorded in other parts of Central Equatoria state, as well as in Jonglei and Upper Nile.
Pundits say heavy rains will greatly impede efforts to contain the disease – especially since many displaced people continue to depend on untreated water.
Over 1.3 million people have been displaced and thousands killed since violence erupted in young South Sudan in mid-December 2013.
Talks between the two opposing factions have grounded to a halt several times. However, rebel-leader, Riek Machar, has noted that he believes a peace comprehensive deal will be reached at the next meeting between the two sides this month.
Mr. Machar has demanded that a transitional government is created to steer the state until the upcoming national suffrage next year. Reports indicate that the former deputy president has even noted that he is willing to stay out of the interim government.
President Salva Kiir has accused proponents of the idea for an interim government of indirectly working to topple his leadership and install themselves in power.
The embattled head of state has, nonetheless, vowed not to stand idle and watch the destruction of his country.
He went on to urge all South Sudanese citizens to forge together and forgive one another.
These same sentiments were expressed by the head of the United Nation Mission in South Sudan (UNMISS), Hilde Johnson, during a visit to civilians in Bor earlier in the week.
Local sources say the latest ceasefire agreement has been violated by both sides on several instances. However, fighting has reportedly generally subsided.
Meanwhile, the deputy ambassador of South Sudan to the United Nations, Francis George Wazario, has announced his resignation today.
According to Mr. Wazario, his decision was made in light of the unwillingness of the South Sudanese government to let peace ensue and terminate the suffering of the people.
He also accused the government of attempting to control the media and interfering in the foreign affairs ministry.
However, Mr. Wazario noted that his loyalty remains unchanged and is "ready to work with anyone who is ready and willing to bring peace and national reconciliation; who is willing to build a united, democratic and prosperous South Sudan."
Photo/EPA/JM Lopez