Kenya: Mass deportation of Somali asylum seekers could empower terrorists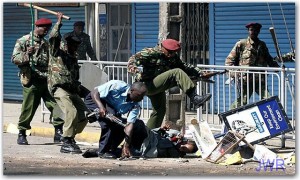 A Somali official has warned that Kenya's latest nationwide anti-terrorism operation codenamed 'Uslama Watch', which has led to the apprehension and repatriation of his nationals in the neighbouring country, is likely to empower al Shabab and other terrorists operating in Somalia.
Over 6,000 Somalis in Kenya are estimated to have been taken into custody since the operation commenced last month, according to online sources. While more than 1,000 of them have been reportedly relocated to refugee camps in the country, about 400 have been deported back to Somalia.
Reports indicate that thousands of Somalis in Kenya have also voluntarily returned home this past month. Officials say many more refugees are expected to be repatriated or return willingly.
According to Mohamud Moalim Yahye, the Minister for Interior and Federalism Affairs of Somalia, the terrorists will capitalise on the fact that the government is currently ill-equipped to handle such large-scale return her citizens.
"The unplanned and uncoordinated deportation of people, especially the youth, will create chaos and anarchy as there are no resources to support and create jobs for them," he explained to IPS.
Despite having successfully forced al Shabab to retreat from urban areas of the country into the south, the terrorists still pose a deadly threat – as a spate of recent deadly attacks have proven. Last week, al Shabab reiterated their vow to target other countries in the region, particularly Kenya.
Reports indicate that the authorities have targeted the groups' supply chains and experts speculate that al Shabab is experiencing a financial crisis. The terrorists are reportedly also contending with a shortage of fighters.
However, the recent wave of deportees could change the current state of security in the country, according to Mr. Yahye.
Other top Somali officials have also voiced their concerns about the controversial operation; noting that it supports the plan of the terrorists to spread terror through their attacks. They have instead requested that Kenyan authorities adhere to a tripartite agreement between both countries and the United Nations refugee agency.
However, on Tuesday, the Somali government turned down an invitation to attend a tripartite meeting to address the flowering crisis.
The Ministry of Foreign Affairs revealed that this decision was made over concerns "about the plight of Somali refugees and the unlawful activities committed by the Kenyan security forces against the refugees of Somalia in Kenya."
The current Somali government was formed in 2012 and has barely laid its foundations following the collapse of the last administration in 1992.
Local administrative units are yet to be formed in many parts of the country and the threat of terrorist attacks is still high, according to local sources. Nonetheless, Mogadishu is reported to be quickly recovering with small businesses quickly sprouting across the city.
Critics warn that scapegoating and discriminating Somalis based on their religion and ethnicity will not solve the current crisis. But Kenyan officials deny most of the charges against them and insist that the anti-terrorism operation will not be prematurely abated.
The United Nations refugee agency and several other humanitarian organizations have also criticized the anti-terrorism exercise. Kenyan police have been charged with arbitrary arrest, harassment, extortion, forceful relocation and prolonged detention during this 2-month-long operation.
Amnesty International's deputy director for east Africa, Michelle Kagari, recently noted that "Whilst Kenya has legitimate national security concerns, the wholesale targeting of an already marginalized and vulnerable community is an appalling breach of national and international law."
Human Rights Watch's Gerry Simpson has also underscored the fact that "Deporting people to conflict zones in Somalia shows a total disregard for their rights and their safety."
Several critics have also pointed out that Kenya is surrendering its national and international duties by forcibly repatriating asylum seekers. Nonetheless, there are no indications that the operation will be stopped soon. Reports indicate that Kenya had stopped registering new asylum seekers since 2012.
Photo/SomaliTop