Kenya: Authorities deny increasing fees of public universities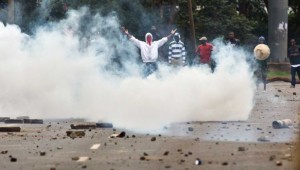 Kenya's Cabinet Secretary for Education, Jacob Kaimenyi, has refuted allegations that the tuition of public universities have been hiked.
In a statement to the press, Mr. Kaimenyi explained that such an increment cannot be effected without due consultations with university councils and an endorsement by the Ministry of Education.
Students of public universities across Kenya have taken to the street this week to protest against alleged plans by the authorities to increase their tuition.
The students have called for the resignation of Mr. Kaimenyi and have also demanded a 50% increment to the amount allotted to them by the Higher Education Loans Board.
Reports indicate that up to 100 students were arrested at the University of Nairobi on Tuesday in what has been described as the most violent encounter thus far.
Local sources say the protesters disrupted traffic, harassed motorists and forced many shops in the central business district to close early over fears of being looted.
However, the police interrupted the demonstration and restored calm to the city. Similar scenes have played out in up to 4 cities across Kenya this week, according to local reports.
The Police Chief of Nairobi, Benson Kibue, vindicated the crackdown on the protesters; explaining that demonstrations by one section of the public should not paralyse the activities of others.
"When you cause an obstruction or instil fear among by-standers, then that ceases to be a peaceful demonstration," he noted.
Reports indicate that the students' plan to deliver a petition to the Ministry of Education was cut short due to the interruption by the police.
It is currently unclear how the student unions will respond to the revelations by Mr. Kaimenyi.
Meanwhile, the students have demanded the release of their colleagues in detention and have expressed determination not to be cowed into stopping their demonstrations.
Kenya's public universities are reportedly in a bad shape due to a lack of sufficient funding. Nonetheless, the amount of people seeking admission into them has soared notably in the past few years.
Photo/Ben Curtis/AP