Kenya: Suspect dies in failed terrorist attack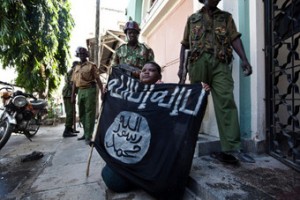 One suspected member of al Shabab lost his life on Tuesday, after a grenade he was conveying detonated prematurely at Garissa town.
According to Reuters, up to 11 people sustained injuries from the heavy explosion outside the Nur Rahma Masjid Mosque near the Somali border, north-eastern Kenya.
Reports indicate that another suspected terrorist is among the injured.
Claims that the terrorists were en route to attack a mosque has raised many questions among pundits. The extremist Islamic sect are notorious for attacking churches, but not mosques. However, officials are yet to shed more details on the attack.
Tensions ran high between Kenya's Muslim community and the police earlier this year after a raid on a famous mosque in Mombasa.
Local sources have disclosed that at least 3 suspects have been arrested in connection with the blast. Reports indicate that an undetonated grenade was also recovered from the scene.
Meanwhile, Garissa Police Commander, Charles Kinyua, has revealed that another failed terrorist attack occurred elsewhere in Garissa on Tuesday; after a grenade hurled at a hotel failed to explode.
This wave of attacks come after al Shabab laid ambush to an army convoy and killed about 12 people (including some security officers) on Monday in the same region.
Kenya's air force have conducted two raids on al Shabab's posts in Somalia this week. Reports indicate that several top members of the al Qaeda-linked terrorists are believed to be among the casualties.
Photo/Ivan Lieman/AFP