al Shabab kills 12 in ambush at Kenya-Somalia border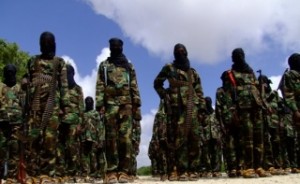 Members of the Islamic militant group, al Shabab, have murdered about 12 people, including 5 police officers, in an attack on an army convoy early on Monday in north-eastern Kenya.
The attack, which occurred about 5 kilometres from the volatile Mandera region, highlights the growing threat of the al Qaeda-linked terrorists.
Mandera County Police Commander, Noah Mwivanda, revealed to the press that the militants attacked an army convoy of four vehicles transporting narcotic leaves from Meru to Mandera.
"The four vehicles were in a convoy when they were intercepted at Omar Jillow village, about 15 kilometres from Mandera town," he told the press.
Reports indicate that the terrorists set fire to one of the Toyota Land Cruiser cars as the driver attempted to reverse from the ambush.
Kenya's Police Chief, David Kimaiyo, has further revealed that police officers who attempted to rescue the convoy were subjected to a barrage of gunshots from the terrorists before they scuttled into Somalia.
Although Mr. Mwivanda has denied claims that there were casualties from the confrontation, official sources have confirmed that about 12 people were killed.
Meanwhile, al Shabab's spokesman, Abdulaziz Abu Musab, confessed that the terrorists have killed the soldiers in the vehicles, as well as some police officers. He further noted that they successfully absconded with 2 vehicles from the short confrontation.
al Shabab have orchestrated a deadly string of attacks in Kenya this year in an attempt to force the government to pull its forces from Somalia.
Several nations – including the United States and Britain – have recently cautioned their citizens against visiting the east African country over fears of impending attacks on locations frequented by tourists.
The Commander General of a US Military division for Africa, AFRICOM, recently revealed that despite numerous victories against the terrorists in Somalia, they still pose a deadly threat in the region.
He also noted that he believes the terrorists will not abate their attacks on countries contributing forces to the African Union Mission in Somalia (AMISOM), as they attempt to "disrupt and frustrate the populations of those countries."
Kenya's leaders have repeatedly vowed to remain in Somalia and support the efforts to stamp out terrorism from the region.
Kenya Defence Forces (KDF) have been in Somalia since 2011 and have reportedly been central to the AU's peace-keeping operation.
Photo/Somalia Report.