Ethiopia and Egypt ready to resume talks over renaissance dam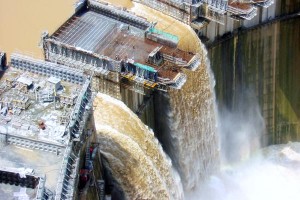 Officials from Ethiopia and Egypt have voiced willingness to re-engage in negotiations to resolve their dispute over the Grand Ethiopian Renaissance Dam (GERD).
Tripartite talks between the water ministries of Ethiopia, Egypt and Sudan broke down earlier in the year due to persistent disagreements.
The three nations are yet to agree on the terms of implementation of the recommendations of an international panel of experts consulted to study the 75 billion birr facility. They are also yet to appease the concerns of the Egyptian government that the dam will considerably reduce its freshwater supply from the Blue Nile.
However, reports indicate that the dam is over 30% complete and Ethiopian authorities have revealed that it is expected to begin operation by 2015.
Last month, the Ethiopian Prime Minister, Hailemariam Desalegn, called for another tripartite meeting to resolve the standing disputes.
This message was echoed by Ethiopia's Foreign Minister, Tedros Adhanom, during a visit to Yemen last week. He stressed that Ethiopia welcomes 'genuine' discussions to settle the concerns of the Egyptian government.
Ethiopian authorities have explained that the dam will be beneficial to the entire region as other nations (including Sudan) have already entered a deal to secure electrical power from the GERD.
The spokesman for Ethiopia's Foreign Ministry, Dina Mufti, recently told the press that the Ethiopia government "will be happy if Egypt returns to the tripartite dialogue and cooperates with us to implement the recommendations made by the international panel of experts with regard to the Grand Ethiopian Renaissance Dam."
Meanwhile, the dispute over the dam's construction has gained international attention. Reports indicate that officials from the United States and the European Union have intervened to resolve the impasse.
The GERD will be Africa's largest hydroelectrical dam when it is completed in 2017. The Ethiopian government has refused offers by the Egyptian government to jointly fund the dam's construction and has instead relied on the sale of bonds. Reports indicate that more than 7 billion birr has been generated thus far.