Somali lawmakers alloted bodyguards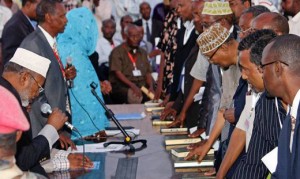 The Federal Parliament of Somalia has announced on Tuesday that members of the house would be provided two guards each.
The Second Deputy Speaker of the National Assembly, Mahad Abdalla Awad, who disclosed the news to the media, insisted on the rights of legislators to be adequately protected.
The assassination of two Somali lawmakers in less than 24-hours last month has sparked security concerns in the war-torn country.
According to pundits, al Shabab have embarked on some of their most daring campaigns in the past few months since they were ejected from major portions of Somalia some years ago. While some commentators have noted that this may be a sign of desperation, it has nonetheless given rise to calls for security to be tightened in the country.
Mr Awad has revealed that currently ministers and their deputies are the only members of the National Assembly provided with security detail.
Recently, about 130 Somali lawmakers published an open letter in which they accused President Hassan Sheikh Mohamud of incompetency and of failing his mandate to the Somali people on numerous issues, including security. The legislators went on to demand the voluntary resignation of President Mohamud or for his appointment to be put to a confidence vote in the Federal Parliament.
Meanwhile, Kenyan officials have protested strongly against suggestions by opposition groups that members of Kenya Defense Force (KDF) should be withdrawn from peacekeeping mission in Somalia.
al Shabab have targeted neighboring countries who have provided troops to the African Union Mission in Somalia (AMISOM) in a bid to force them to withdraw. In September 2013, 4 terrorists stormed an upscale mall in Nairobi and kept control of it for about 4 days as they battled Kenyan security agents. The attack reportedly left nearly 70 people dead and over 170 severely injured.
Despite numerous successes of the ongoing humanitarian joint peacekeeping missions in Somalia, the country is yet to recover from over two decades of civil war.
Recently, several humanitarian agencies in Somalia have reported that the country is on the brink of a humanitarian disaster.
In a report titled "Risk of Relapse: Somalia Crisis Alert", 22 humanitarian organizations have revealed that about half of the Somali population are in a crisis.
Reports indicate that food supply has reduced significantly and farmers have not been able to plant new crops due to an increase in violence and the erratic weather.
Photo/AFP