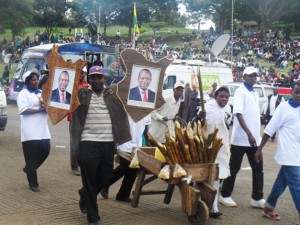 Hundreds of Kenyan workers left the Uhuru park in disappointment on Thursday after the government failed to announce an increase in earnings as many had anticipated.
Reports indicate that the tradition of increasing the minimum wage during Labour Day celebrations was shunned this year due to several issues – most notably the governments' austerity plans and the pressing need to ensure that wages reflect the state of national productivity.
Labour Cabinet Secretary, Kazugu Kambi, who addressed the crowd at the Uhuru park yesterday, noted that any changes to the minimum wage will be made public after deliberations between the ministry, employers and workers' unions before the end of the year.
Several commentators have revealed that workers in the country had been eagerly anticipating an increase in their earnings to offset the effects of the rising cost of living.
Some pundits have called on the authorities to subsidize the cost of raw materials in order to stabilize the prices of goods rather than arbitrarily increasing the country's minimum wage annually
Meanwhile, Mr. Kambi has entreated the public to adopt other ways of expressing their grievances besides strike action. He went on to highlight the fact that strikes are not conducive to economic growth.
The Labour Secretary further disclosed that his ministry is looking into other, more effective, dispute resolution mechanisms to settle the recurrent concerns of workers.
Photo/Dennis Omido/News 24