al Shabab attack neighbourhood in Mogadishu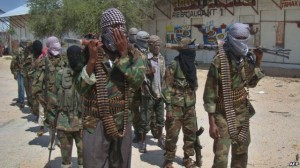 Islamic militant group, al Shabab, have attacked a neighbourhood in Dharkeynley district, Mogadishu.
Sources indicate that the terrorists fired four rounds of mortar shells into neighbourhoods in the district – killing and injuring many civilians and destroying several properties, including a school building.
This attack comes despite claims from Somali officials that security has been increased in the capital of the war-torn nation after the assassination of two legislators recently.
Reports indicate that the missile was aimed at a base used by the African Union in Somalia (AMISOM) forces, but missed.
Somali security forces have reportedly since arrived on the scene and are scouting the neighbourhood for possible sources of the shells.
Although al Shabab have been driven out of Mogadishu since 2011, the group continues to conduct deadly attacks in the city. Somali officials have noted that the increase in these attacks is an attempt by the terrorists to make up for their losses on the battlefield.
The Somali Army and African Union in Somalia (AMISOM) forces have been conducting a campaign to wrestle towns in southern and central Somalia from the control of al Shabab. Reports suggest government forces have successfully liberated many towns from the control of the terrorists this year.
Meanwhile, al Shabab have vowed not to abate their attacks in a bid to force the Somali government and neighbouring countries to rescind their decision to militarily intervene in the country.
Photo/AFP