South Sudan: Angry mob attack UN base in Bor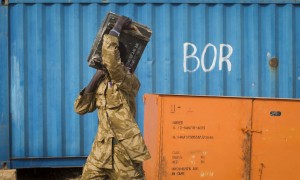 A group of Dinka youths have laid siege to a United Nations compound in Bor on Thursday, killing an unknown number of people and injuring many others, including two peacekeepers.
Reports indicate that the group had embarked on a peaceful demonstration to deliver a petition to the UN for the relocation of the predominantly Nuer civilians from the compound.
However, the protest turned violent and the group opened fire on the civilians, forcing UN peacekeepers to exchange fire to disperse the gunmen.
The UN has revealed that there were about 5,000 civilians in the base, which reportedly also housed the Indian contingent.
Major Kuol Mayen Deng has revealed that Ugandan troops have been stationed to protect the base from any more attacks, according to AP.
Sudan Tribune has disclosed that the attack was triggered by the Nuer civilians' celebration of the rebels' successful takeover of Bentiu, the capital of Unity State, about two days ago.
This version of the event has been corroborated by the Minister for Information, Michael Makuei, who told the press that the gunmen were seeking revenge for the loss of Bentiu.
The UN has condemned the attack on the compound in capital of Jonglei, Bor – which has changed hands several times since the insurrection began in December last year.
A top official of the UN Mission in South Sudan (UNMISS), Toby Lanzer, has expressed outrage over the attack, but noted that the UN will not be dissuaded from its objectives.
A UN statement on the incident underscored "the primary responsibility of South Sudanese authorities to protect all its population and to maintain public order, and calls on the national, state and local authorities to investigate this tragic episode thoroughly and bring to justice the perpetrators of these heinous murders."
The UN also called on South Sudanese authorities to protect civilians and UN compounds, and take measures to ensure a similar attack doesn't occur.
Reports indicate that nearly 70,000 civilians are being sheltered in UN facilities across South Sudan.
Meanwhile, fighting continues in Bentiu. Reports indicate that the rebels are still firmly in control of the city. However, South Sudan's military spokesman, Philip Aguer, has told the press that the military is "closing in" on the city.
Photo/AP/Mackenzie Knowles-Coursin