Somali MP assassinated in car bomb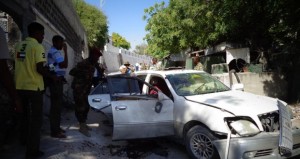 At least one member of the Federal Somali Parliament has been killed on Monday and another injured after a car they were driving in exploded and burst into flames in Mogadishu.
Reports indicate that Isaaq Mohamed Riino died from the resulting injuries, while Mohamud Ali Dhuuh is currently receiving treatment at the Madina Hospital.
An eye witness told Horseed Media that the bomb detonated shortly after the two men got into the car this morning at Hamar Weyne.
According to Garowe Online, one bystander was also injured in the explosion.
Officials have noted that the explosive device was most likely placed under the driver's seat. Meanwhile, the commissioner for Hamar Weyne district, Abdukadir Mohamed Abdukadir, has told the press that an investigation has been opened into the incident.
President Hassan Sheikh Mohamud and Prime Minister Abdiweli Sheikh Ahmed have both condemned the attack and extended their condolences to the families of the victims.
The two leaders also stressed their commitment to prevent al Shabab and other terrorists from destroying the gains of the joint African Union Mission in Somalia (AMISOM) and Somali forces.
Since 2012, AMISOM and Federal Somali forces have successfully won back several towns from the control of the al Qaeda-linked terrorists – leaving the group only in control of patches of communities in southern and central Somalia.
In response to this campaign, al Shabab have launched several deadly attacks on high profile targets in Somalia and neighbouring countries.
According to Reuters, the group have claimed responsibility for this attack, rationalising it along similar lines.
This attack comes in light of an ongoing national security conference where Somali leaders are expected to develop a plan for combating terrorism in the country. In his opening speech at the conference on Sunday, President Mohamud had remarked that the prolonged state of insecurity and anarchy in Somalia is "coming to an end."
Photo/KEYDMEDIA