Dahabshiil resolves dispute with Barclays Bank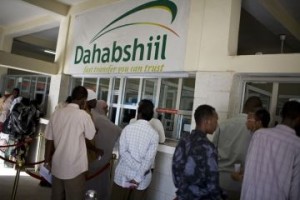 One of the largest money transfer operators in Africa, Dahadshiil, has settled a protracted dispute with Barclays Bank over the multinational financial institution's decision to close its account.
Reports indicate that the bank has agreed to give Dahabshiil a "transition period" for the remittance company to "move to alternative arrangements."
In May last year, Barclays announced a decision to sever ties with more than 200 Somali remittance service providers. While some reports claim the decision was driven by concerns over the low anti-money laundering standards of these companies, Barclays reportedly revealed to Dahabshiil that it is "a commercial decision due to the risks in the sector."
Dahabshiil had successfully won an interim injunction from a British High Court against Barclay's decision to summarily cut their ties. The court ruled for the bank to continue to avail its services to the money transfer operator until the case resumed sometime this year.
Dahabshiil has revealed that, meanwhile, it will work with western authorities to track remittances to Somalia.
In response to a widespread campaign against the move by the bank last year, the British government announced that it will create an Action Group on Cross Border Remittances and will embark on a project to secure remittance "channels" to the war torn country.
Reports indicate that up to 40% of the Somali population depend on remittances. Many observers have explained that this is a direct result of the absence of a formal banking system. According to some estimates, more than $1 billion is transferred annually to Somalia.
Photo/Narayan Mahon/Pulitzer Center/GlobalPost