Ethiopian defence ministry ready to protect renaissance dam against attacks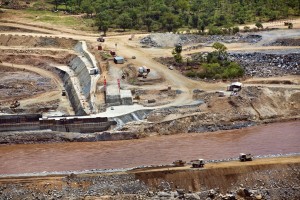 Ethiopia's Minister of Defense, Siraj Fegessa, has told the country's legislators that his ministry is prepared to shield the Grand Ethiopian Renaissance Dam (GERD) from any attacks.
He relayed this information while presenting his ministry's bi-annual performance report to the National Assembly this past week, according to the Foreign Ministry.
However, Fegessa added that he thought the possibility of such a scenario playing out is quite low.
Recently, Egyptian presidential candidate and head of Zamalek Sporting Club, Mortada Mansour, revealed that he will use military options to stop Ethiopia's construction of the dam and protect Egypt's freshwater supply.
A report quotes Mansour explaining that "Just like they showed off and brought their generals around the dam and said if Egypt can come. Now we also have generals and planes O' Ethiopia that can reclaim Egypt's rights because we will not allow a drop of water to be cut, to have drought in the country, in agriculture, people can't find a drop of water. This is vital for us. I thought that for subsequent Egyptian administrations that the issue of water is a life or death issue. This is not up for discussion."
Meanwhile, several Ethiopian online commentators have dismissed the threat as being unwarranted.
Last year, former Egyptian President Mohamed Morsi was caught on national television along with other top officials detailing plans to subvert the dam's construction, which he alleged is connected to America and Israel – whom he described as enemies of Egypt.
Negotiations between Ethiopia, Egypt and Sudan broke down earlier in the year reportedly due to the failure to reach a consensus on the process of implementing the recommendations of a panel of experts assigned to study the dam in 2012.
Egypt's request for a new 'neutral' study into the effects of the dam on the environment has reportedly also been a source of division.
Last month, however, Ethiopia's and Egypt's Irrigation Ministers voiced their willingness to resume the talks over the dam.
In the wake of an international smear campaign against the construction of the dam, the GERD National Panel of Experts have charged the International River Network (IRN) with systematically preventing Ethiopia from utilising its water resources for development.
The group notes that "It would be unconscionable for us as professional Ethiopians well versed with and advising on GERD related issues to keep on looking at these people with bemusement and indifference when they peddle, clearly siding with Egypt, distorted, unsubstantiated and hostile mercenary propaganda against GERD and the Ethiopian people."
Despite numerous attempts to stifle the dam's progress, reports indicate that the $4.3 billion facility is over 30% completed and is on track to be finished by the deadline in 2017.
Photo/Jiro Ose/Redux.