President Musuveni reacts to Sanctions over Uganda's Anti-Homosexuality Bill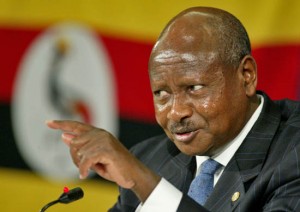 Uganda's President Yoweri Musuveni, speaking at the 10th anniversary of the Pan-African Parliament (PAP) in Midrand, South Africa on Tuesday, has described the move by several Europeans nations to freeze aid to his country due to its enactment of an anti-Homosexuality law last month as contemptuous.
Since President Musveni signed the law, the Ugandan government has been subjected to a barrage of criticisms.
Many activism groups have described the law as judicially-approved human rights violation. But the Ugandan leader has drawn an analogy between the different reactions to polygamy and homosexuality in western countries and in the African continent to highlight his point that the practice is generally culturally alien in Africa.
He noted that due to the weak and under-developed state of the continent, assistance from developed nations is needed. However, he warned that an attempt is being made to culturally colonise Africa through the strings attached to aid.
He, therefore, called on his fellow leaders to be strong to avoid other nations from intervening in the continent's affairs.
He also relayed the circumstances that led to the crisis in Libya to underscore his point that African nations must take charge of the continent's affairs.
At least four European nations have cut aid to Uganda over the country's enactment of the contentious anti-homosexuality law.
The European Commission has reportedly voiced support for these sanctions against Uganda and Nigeria – who recently also enacted a similar law.
Reports indicate that the European Union is currently deliberating on possible sanctions for both nations, who are seen to have violated the Cotonou Agreement – which calls for the respect of human rights and denounces impunity.
Meanwhile, the African, Caribbean and Pacific Parliament (ACP) has urged African leaders to boycott a meeting with European leaders next month, according to a report by News24.
Makhosini Hlongwane, Zimbabwe's representative to the ACP-EU, is quoted saying that "If we do not take steps to stop further incursions into our cultural territory, we are doomed as a people."
Reports have emerged that the Secretary of State of the United States of America, John Kerry, is set to send experts to discuss the law, which has sparked an international debate, with President Musuveni.
According to the report by Huffington Post, the experts are expected to point to the Ugandan leader that his criminalization of homosexuality "could not be based on any kind of science or fact."
President Musuveni has ordered a study to ascertain if homosexuality is a genetic or acquired behavior. While Ugandan researchers reported that it is an acquired behavior, a research by scientists in the U.S presented to the Ugandan leader says homosexuality could be genetic.
Photo by Martin Cleaver/AP: President of Uganda, Yoweri Museveni.