Kenya: Public University Lecturers call off Strike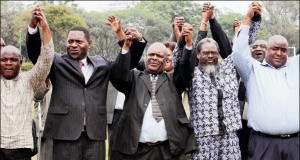 Union officials have, on Wednesday March 19th, announced the end to the strike action by Kenya's public university lecturers, after an agreement was reached at a meeting with representatives of the universities' administrators.
Charles Mukhaya, the General Secretary of Kenyan University Staff Union (KUSU), told Capital FM that "the strike has been called off following fruitful talks with the Vice Chancellors. We have reached an amicable solution after a deal was struck that all the monies owed to us will be paid to all our members."
He further directed all the protesting lecturers to return to their posts by 8:00 am on Thursday, March 20th.
Learning almost grounded to a halt in universities across Kenya as administrators and lecturers wrangled over their dispute. Many students had raised concerns over the effects of the strike on their upcoming semester examination in April.
On Tuesday, reports emerged that the talks between the lecturers and representatives of the administrators had collapsed due to persistent disagreements on how the other half of the payment entitled to the lecturers as part of a Collective Bargaining Agreement (CBA) with the government in 2012 will be paid to them.
However, Labor, Social Security and Services Cabinet Secretary, Kazungu Kambi, revealed that the impasse was traversed after the vice-chancellors' representatives addressed some key issues raised by the lecturers on Wednesday.
Daily Nation quotes Kambi saying that "The universities managements have agreed to withdraw the cases lodged at the Industrial Court and there shall be no victimisation."
The lecturers had ignored a summon from the Industrial Court, as well as an order from the same court ordering the strike to be called off.
However, a group of representatives of the striking lecturers are reported to have appeared in court on Tuesday, March 18th, to register the grievances of the dons.
Meanwhile, the Secretary General of the Universities Academic Staff Union (UASU), Muga K'Olale, who also confirmed to the press that the strike has been canceled, noted that "measures should be put in place to ensure that this incident never repeats itself again."
Photo by Standard Digital: A section of the leaders of Kenya's public university lecturers' unions.