United Nations accuses South Sudanese Security Agencies of Harassment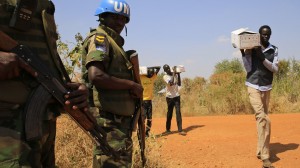 United Nations officials have charged the South Sudanese government of undermining the organization's mandate through frequent "systematic and organized" harassment and violations of the rights of its staff.
Herve Ladsous, the UN peacekeeping chief, told the Security Council in New York on Tuesday that the situation is neither "sustainable or acceptable."
He, therefore, called on the council to express strong disapproval of the reports and instruct South Sudanese authorities to investigate the claims and take the necessary steps to stop it.
A report by the United Nation's Department of Pecekeeping Operations (UNDPKO) details several instances where UN personnel have been physically harassed, forcibly searched and sometimes delayed for a prolonged period from completing their tasks by South Sudanese forces.
Since the beginning of the war in South Sudan, the relationship between the government of the world's youngest nation and the UN has steadily degenerated. Both sides have grown more distrustful of the other – with South Sudanese officials accusing the UN of implicitly aiding the rebels.
UN officials say the rift has the potential to severely affect the UN's activities in the war-torn nation.
Herve Ladsous told the Security Council that "Under these conditions we will need to consider further drawing-down of our staff and limiting our activities to the absolute minimum related to protection, human-rights monitoring and support to humanitarian assistance."
Many observers have warned of dire consequences if the UN does curtail its operation in the country.
The war between the two main ethnic groups in the small arid nation – inspired by a conflict between the country's two top politicians – has led to the displacement of about one million people and the deaths of tens of thousands.
Several humanitarian groups have reported that a large percentage of the displaced civilians are in dire need of food as well as medical supplies as the rainy season approaches.
"The security and humanitarian situation in South Sudan will continue to deteriorate until the parties fully engage in the political talks, respect the cessation of hostilities and allow freedom of movement for the United Nations and its partners," Ladsous said.
Meanwhile, South Sudanese officials have dismissed allegations that the government is attempting to restrict the operations of the UN, and other humanitarian agencies.
Photo by James Akena/Reuters.