Eritrea Declares Support for South Sudanese Government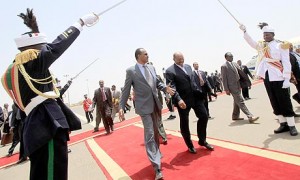 Eritrean officials have expressed support for the belligerent ruling government of South Sudan led by President Salva Kiir.
Ali Karti, Eritrea's Foreign Minister, in a meeting with reporters on Saturday, underscored the significance of peace in South Sudan to the economy and security of Eritrea and the entire East Africa.
He said the Eritrean government is committed to helping the warring rivals in neighboring South Sudan reach an accord.
This revelation, made during a visit by President Omar al Bashir of Sudan to Eritrea, builds on the historical relationship between both nations.
President Isaias Afewerki's government is believed to have been one of the chief supporters of the Sudan People's Liberation Movement (SPLM) during the decades of war it waged against the Sudanese government.
Eritrea also played a key role during the negotiations that eventually led to the split of South Sudan and Sudan.
Since violence erupted in South Sudan in mid-December 2013, reports have emerged of Eritrean citizens in perilous situations.
In the first week of this month, Eritrean officials revealed that over 100 Eritreans had been repatriated from South Sudan. Meanwhile, many other Eritreans in the young nation are reported to have been relocated to United Nations' compounds and other safe facilities with the assistance of the Eritrean consulate.
President Omar al Bashir of Sudan had earlier expressed his support for the government of South Sudan during a visit to his former rival and leader of the restive state, President Kiir.
Thousands of people are estimated to have been killed since violence erupted in South Sudan late last year.
According to the UN, up to 400,000 people may have been displaced as a result of the conflict, which has spread to over three states thus far.
The UN has revealed that investigations are ongoing into numerous claims of human right violations and extra judicial killings during the month-long conflict. The organization has pledged to prosecute all persons found guilty.
Eritrea – Sudan Deepen Relations
During the three-day visit of the Sudanese President to Eritrea, the leaders of the two nations vowed to improve bilateral relations between their states.
Prior to the re-invention of the East African Community – which Eritrea and Sudan are notably absent from – these two nations had been working on improving the flow of goods and services from each other's territory by eliminating excessive visa requirements and constructing a high-way linking both nations.
According to reports, plans are underway for increased co-operation between the two nations in other areas of mutual interest, such as petroleum, health, education and electrical power.
Photo by Reuters/Mohamed Nureldin Abdallah: President Isaias Afewerki of Eritrea and President Omar al Bashir of Sudan in Khartoum in 2010.