India comes under Criticisms for Alleged Mistreatment of African Immigrants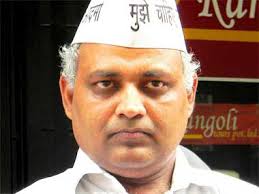 The Indian government has been the subject on an onslaught of criticisms over an alleged raid on African residents in Delhi, capital of the South Asian country.
A Delhi court on Sunday ordered the police to file a First Information Report against Law Minister Somnath Bharti and others after a Ugandan woman lodged a complaint against the officials.
In her complaint, the unidentified Ugandan woman is reported to have revealed that African women – mainly Ugandans and Nigerians – were being assaulted, intimidated and abused.
Indian reporters have said the recurring abuses generally occur when the minister and his supporters attempt to bust drugs and sex rackets.
According to reports, on Thursday night, Bharti led a group of AAP activists and Malviya Nagar residents to Khirki Extension to carry out raids against Ugandan and Nigerian nationals, using objectionable language and allegedly forcing them to undergo urine and blood tests.
Law Minster Somnath Bharti has previously said that prostitution and drug trade  is increasing because of the presence Ugandan and Nigerian immigrants in the area.
The Nigerian envoy revealed to reporters yesterday that "As an African I feel personally violated and outraged that in the 21st century such an incident can take place against citizens of either India or any other country."
The incident brings to memory a recent similar confrontation between Nigerians and local residents in Goa, where one Nigerian is reported to have died and others wounded.
The Nigerian High Commissioner to India Ndubuisi Amaku is quoted in an exclusive interview with IANS saying, "With the Goa incident recently, followed by this in the capital, I feel the time has come for the Indian government to condemn these incidents and also act against the perpetrators so that Africans living in this country feel reassured. They are feeling very insecure after such incidents."
He also questioned why black people are generally profiled to be criminals. Adding that with thousands of African – mainly Ugandan and Nigerians – living in India, incidents like this raises concern for their safety.
Mr Bharti, who has been accused of what many have described as 'vigilantism', denied any wrongdoing on the part of workers of his Aam Aadmi Party who were present during that raid.
"(The) Entire incident is recorded, none of the party workers raised their hand or misbehaved with any of them," the minister said
Meanwhile, the Indian Foreign Office summoned over 20 African envoys on Saturday evening to reassure them that the Indian government would take action regarding Thursday's incident. A single-point office of the police commissioner will now be established, specifically for complaints from foreigners.
Delhi's Chief Minister on Saturday clarified that his government as well as the Aam Admi Pnnarty (AAP) have nothing against foreigners.
He said "We respect foreigners as our honored guests. I don't think Somnath Bharti made racist comments. Bharti didn't manhandle anybody during the raid."
This notwithstanding, the court has asked Delhi Police to submit a report by February 14th on what action they have taken on her complaint.
Prostitution has always been an issue in India. Economic necessity and lack of employment are considered the main issues that force Indian women into prostitution. Currently, it is estimated that around 2 to 3 million women in India practice prostitution.
Photo: India's Law Minister, Somnath Bharti.