Japanese Prime Minister Pays Tribute to Late Ethiopian Olympic Marathon Champion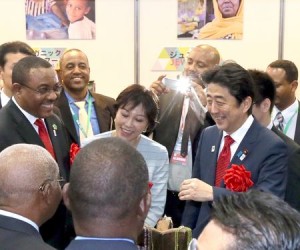 The Prime Minister of Japan Shinzo Abe on Monday met with several athletes in Ethiopia and paid tribute to the legendary Abebe Bikila as part of his much anticipated visit to the country.
This is only the second visit by a Japanese premier to Ethiopia in over 8 years.
During his meeting with the athletes, the Japanese Prime Minister was presented with a photo of Abebe Bikila at the Tokyo 1964 Olympics by the son of the legendary athlete, Yetnayet Abebe.
Mr. Abe revealed that in his younger years in school, he was jokingly called 'Abebe' – a witty and playful derivative from his name, Abe.
The Japanese Premier relayed his memories of the historic race during the Tokyo 1964 Olympics, which the late Abebe Bikila ran shortly after completing an operation for acute appendicitis.
"Many Japanese marathon runners would actually collapse after the race but I saw Mr. Abebe actually stretching afterwards, it was such a surprise, even for a 10-year old," he recalled.
Abebe Bikila, most renowned for running barefoot to win the gold medal at the 1960 Summer Olympics in Rome, is one of the most celebrated athletes worldwide.
After shattering the world record in Tokyo to take another gold medal in 1964, Abebe had revealed that he was still quite fit to run another 10 kilometers.
The Japanese Prime Minister arrived in Addis Ababa today from Mozambique before meeting the athletes. Earlier the Japanese Prime Minister had visited the Ivory Coast.
Japanese officials have revealed that the Prime Minister's visit would center on establishing new business partnerships and strengthening political ties between Japan and Africa.
In the past few years, the influence of the Japanese government on the continent has slowly waned in light of China's aggressive political and economic initiatives in Africa.
Many pundits reason that after successfully steering Japan away from a looming recession with his 'Abenomics', the Japanese Prime Minister is looking to strengthen his nation's international image. This is especially important in light of Japan's recent attempt to earn a seat on the United Nations Security Council.
The Japanese Prime Minister is expected to meet with Ethiopia's leaders and also address an African Union assembly in Addis Ababa later in the week.
Japanese officials have reiterated the historic Asian nation's continued support for negotiations to end wars in the east African region, including the one in South Sudan.
But somewhat controversially, the Japanese government is reported to have booked the Sheraton Hotel conference room where peace talks were scheduled to take place over South Sudan today.
The negotiations were therefore moved to one of Addis Ababa's most patronized club, the Gaslight, according to the BBC.
Photo: Japanese Prime Minister Shinzo Abe and Prime Minister Hailemariam Desalegn of Ethiopia at a fair in Tokyo last year. (Shiro Nishihata)