Warring Factions in South Sudan Optimistic of reaching Cease-fire Agreement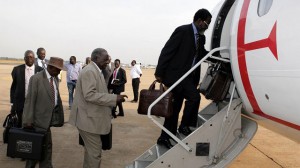 After close to a month of sporadic fighting, delegates representing President Salva Kiir and rebel leader Reik Machar in Addis Ababa say they are optimistic a cease-fire may be within reach.
This disclosure comes after reports that delegates representing the rebels at the peace talks have decided to forgo a precondition for the release of their jailed colleagues. This precondition is reported to have been largely responsible for the slow pace of the talks thus far.
Last month, several prominent South Sudanese politicians were taken into custody after the government revealed the military had successfully prevented a coup d'etat.
While some of the officials who were initially arrested have been released, about 11 of them are reported to still be in custody.
The Wall Street Journal quotes Maboir Garang, son of the late South Sudan Liberation Army (SPLA) leader John Garang, saying "We don't think it is fair for our people on the ground to suffer because of the suffering of 11 people."
Meanwhile, the General Secretary of the United Nations, Ban Ki Moon on Friday revealed that he has instructed President Kiir "to demonstrate leadership and political flexibility by immediately releasing [the] political prisoners."
"This crisis can be resolved only at the negotiating table, and I urge the two sides to negotiate in earnest," he added.
The governments of the China and the U.S. have also called on President Kiir and Mr. Machar to immediately agree on a cease-fire agreement and curb the wanton loss of lives and properties in the young nation.
UN officials in South Sudan report that over 200,000 people may have been displaced and over 1,000 dead as a result of this insurrection in the young nation.
Bentiu reclaimed from rebels
On Friday, South Sudanese military officials revealed that Bentiu, capital of the oil-rich Unity state, had been successfully wrestled from the control of rebels.
Philip Aguer, spokesman for the South Sudanese military told Reuters that the victory came after several days of fighting.
"When you control Bentiu, you control all the oil fields in Unity state," he noted.
Oil production in Unity state has been reduced significantly since rebels took control of the town a few weeks ago.
Mr. Machar has confirmed to AFP that indeed his troops have lost control of Bentiu. According to him, rather than lose ground, his men "withdrew from Bentiu, but it was to avoid fighting in the streets and save civilian lives," he explained.
"We fight on, we will continue the battle," he added.
South Sudanese military officials have disclosed that reinforcements are expected in the coming weeks as the campaign, for the remaining areas under rebel control, is intensified.
Meanwhile, the Ugandan government have deployed troops and helicopters to Juba. Last week, lawmakers criticized President Yoweri Musuveni of Uganda for deploying troops to South Sudan without parliamentary consent. Currently, about 1,000 Ugandan civilians are believed to be trapped in South Sudan.
Although representatives of Uganda's president insist soldiers from the Ugandan People's Democratic Force are being deployed to protect Ugandan nationals. Many have rightfully noted that this may mean engaging the rebels in battle, thereby opening another dimension to this conflict.
Uganda has been one of the main partners of South Sudan in her attempts to accelerate socio-economic development in the deeply impoverished nation.
But the modicum gains achieved thus far stand the chance of being destroyed by this conflict, which has been fought along ethnic lines.
According to South Sudan's military spokesman Philip Aguer, the rebels robbed and destroyed several properties in Bentiu before relinquishing control.
South Sudan has a long history of ethnic conflict over its limited resources. Since this insurrection began, the largest ethnic group in South Sudan, the Dinka, from which President Kiir hails, have been pitched against the second largest ethnic group, the Nuer, from which Mr. Machar hails.
Despite widespread optimism that a cease fire is within reach, some commentators have rightfully noted that the loosely connected nature of Mr. Machar's forces may create further problems along the way.
There are concerns that the rebels – made up of scattered units of rogue soldiers and ethnic militia – may have objectives that differ from that of Mr. Machar, who has until now been generally recognized as the leader of the rebellion.
Meanwhile, officials have revealed that the military is set to battle the rebels for control of Bor – which was recently lost to the rebel for the second time since the conflict began last month.
Photo: A group of South Sudanese officials departing for Addis Ababa to participate in peace talks. (Phillip Dhil/EPA)