South Sudan Rebels set Sight on Juba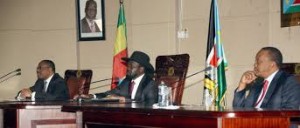 Rebels in South Sudan are forcibly recruiting civilians to march to the capital, the military said, even as representatives of the warring factions gathered in neighboring Ethiopia on Thursday for the start of peace talks, according to reports.
The recent revelations underscores the challenge facing African mediators as they try to nudge two rivals —President Salva Kiir and ousted Vice President Riek Machar —toward the negotiating table after more than two weeks of bloody violence in the world's newest country.
South Sudan has been plagued by ethnic tension and a power struggle within the ruling party that escalated after Kiir dismissed Machar as his vice president in July, with the conflict boiling over in mid-December.
Rebels loyal to Reik Machar currently control Bor, the capital of the key oil-producing state of Jonglei that has experienced some of the fiercest fighting of the conflict. Meanwhile military spokesman Col. Philip Aguer says the central government has sent in reinforcements from Juba, the capital. He also revealed that rebels were arming reluctant civilians to attack Juba.
''Juba, that is their intention,'' he said. ''They are trying to march to Juba. The (South Sudanese military) will return them to where they came from.''
The reports of fighting has overshadowed efforts in neighboring Ethiopia to get both sides to agree on a cease-fire deal.
The United Nations and the African Union have said they support the efforts by East African leaders to broker peace in South Sudan.
Kiir on Wednesday declared a state of emergency in the states under the control of rebels, this includes Bor (Jonglei), Bentiu (Unity) and Malakal (Upper Nile).
The fighting has exposed ethnic rivalry between the country's two largest ethnic groups, the Dinka and the Nuer. The U.N. says there is mounting evidence that people were targeted based on their ethnicity.
More than 1,000 people have been killed and nearly 200,000 displaced by violence.
Kiir insists the fighting was sparked as the result of a coup attempt mounted by soldiers loyal to Machar on December 15th, in Juba.
But that account has been disputed by some officials of the ruling party, who say the violence began when Dinka presidential guards tried to disarm their Nuer colleagues. From there, violence spread across the country, with forces loyal to Machar defecting from the military and seizing territories from loyalist forces.
South Sudan's government said in Twitter updates Thursday that the military had formed committees to ''investigate those involved in killing people,'' as well as the fight among presidential guards. It also said ''criminals'' accused of looting from civilians had been arrested.
Machar has accused Kiir of being a dictator and says he will contest the 2015 presidential election.
South Sudan peacefully broke away from Sudan in 2011 following a referendum. Before that, southern ethnic groups were engaged in decades of war with Sudan.
In New York, U.N. humanitarian chief Valerie Amos said some 194,000 South Sudanese citizens have been driven from their homes by the violence, and more than 57,000 are under protection at U.N. peacekeeping bases.
She said the United Nations has provided up to 107,000 South Sudanese citizens with humanitarian assistance, and the world body aims to reach over 600,000 civilians in the next three months.
Meanwhile, AFP has reported that South Sudan's warring parties gathered in Ethiopia Thursday for peace talks hoped to end nearly three weeks of conflict that has left thousands dead in the world's newest nation.
As government and rebel negotiating teams gathered at a luxury hotel in Ethiopia's capital Addis Ababa, aid workers warned of a worsening crisis for civilians affected by the still ongoing conflict in South Sudan.
"We are ready for talks," a member of the rebel delegation told AFP, adding that it remained unclear exactly when meetings would start and in what format.
It was also not clear if all members of the two delegations had arrived, suggesting that full face-to-face talks might not take place on Thursday.
Thousands of people are feared to have been killed in the fighting, pitching army units loyal to President Salva Kiir against a loose alliance of ethnic militia forces and mutinous army commanders headed by ex-vice president Riek Machar.
UN special envoy Hilde Johnson said in Juba it was "positive that they [President Kiir and Reik Machar] are sending delegations," underscoring the dire need for "reconciliation and healing" after the violence.
"We have seen terrible acts of violence in the past two weeks… and as we know, if there is no one held accountable, there is a major risk that the violence can continue," she added.
Over 200,000 Sudanese refugees who had fled the fighting face a grim situation, with many aid workers who had been supporting them evacuated.
On Tuesday rebels recaptured Bor, the capital of Jonglei state just 200 kilometres (125 miles) north of the capital Juba. Bor has changed hands three times since the fighting erupted.
Civilians in the town now face "an increasingly dire situation: water, food and medicines are running out, sanitary conditions are worsening," UN humanitarian chief in the country Toby Lanzer said.
Close to 200,000 civilians have been forced to flee their homes, many seeking refuge with badly overstretched UN peacekeepers.
The conflict has also been marked by an upsurge of ethnic violence pitting members of Kiir's Dinka tribe against Machar's Nuer community, and the UN Mission in South Sudan (UNMISS) said that "atrocities are continuing to occur" across the country.
UNMISS reported "extra-judicial killings of civilians and captured soldiers" and the "discovery of large numbers of bodies" in Juba, Bor and Malakal, the main town in oil-producing Upper Nile state.
On Tuesday, Machar told AFP via satellite phone that he was not yet ready to agree to an immediate ceasefire nor hold face-to-face talks with Kiir, and that his forces were marching on the capital Juba.
"There is no cessation of hostilities yet," Machar said. "That is what the delegation going to Addis Ababa is going to discuss and to negotiate."
Kiir has described the war as "senseless", but has ruled out power sharing with the rebels. The president has also rejected rebel demands that a number of their loyalists, arrested shortly after the violence started, be released.
"If you want power, you don't rebel so that you are awarded with the power," Kiir said in an interview broadcast on the BBC.
South Sudan won independence from Sudan in 2011 after decades of civil war.
Photo courtesy of Zehabesha.