South Sudan President Declares State of Emergency in Areas under Rebel Control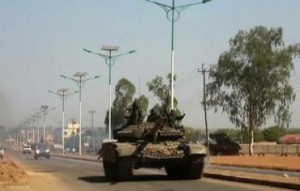 The President of South Sudan Salva Mayardif Kiir has declared a state of emergency in two states under the control of rebels loyal to his former deputy Reik Machar.
The directive, which was announced yesterday 1st January, 2014, is to enable the government dismiss officials who have defected without a parliamentary vote, according to a presidential spokesperson.
Violence erupted in South Sudan early last month, reportedly after a dispute between soldiers from the Dinka and Nuer ethnic groups.
According to the UN, thousands have been killed and up to 175,000 displaced in the violent dispute thus far.
Although the violence was sparked by a political conflict, there have been several reports of tribal-based attacks in parts of the country–which has a history of tribalism.
The "white army", a notorious rebel unit from the Nuer ethnic group, have taken up arms in support of Reik Machar–who is also from the same ethnic group.
Meanwhile, both President Kiir and Reik Machar dispatched representatives to Addis Ababa for peace talks on Tuesday. This coincided with the deadline for a ceasefire issued by the Inter-Governmental Agency for Development (IGAD).
Despite dispatching delegates to the negotiations, Reik Machar has revealed that he will not call a cease fire unless the preliminary talks prove to be favorable.
Meanwhile, the South Sudanese government has reiterated its commitment to speedily resolving this dispute and curb the spread of violence across the young nation.
On Tuesday, Reik Machar revealed that his forces had re-taken Bor, the capital of Jonglei state. The brings to a total of three, the number of cities under the control of Reik Machar's forces (the others are Bentiu in Unity State and Malakal in Upper Nile State).
Hilde Johnson, the head of the United Nations Mission in South Sudan recently commented that she believed South Sudan "can still be saved from further, major escalations of violence."
She also revealed that she had been in contact with President Kiir and Reik Machar, who have both expressed their commitment to dialogue and giving "peace a chance."
Machar warns Uganda's President against escalating violence
Reik Machar has sounded a warning to President Yoweri Musuveni of Uganda against interfering in the ongoing conflict in South Sudan.
A joint statement released recently by Mr Machar and the ex-Minister for Higher Education, Science and Technology, Peter Adwok Nyaba reads "We call upon the African Union (AU) and the Intergovernmental Authority on Development (IGAD) to restrain Uganda's government from fuelling the conflict by sending troops and war planes to support the government of Salva Kiir."
On Monday, President Musuveni had vowed to use military action to stop the rebellion in South Sudan if a cease fire was not reached by Tuesday.
Denouncing this threat, Mr Machar said President Musuveni risks aggravating the current conflict and compromising IGAD's efforts to call a truce between the parties involved in the conflict.
President Musuveni is reported to have already deployed troops to South Sudan in light of reports that over 1,000 Ugandans were trapped in the middle of the conflict.
Back in Uganda, MP's have expressed disagreement with President Musuveni's decision to deploy members of the Ugandan People's Democratic Force to South Sudan without parliamentary consent.
In a recent report by the VOA, a Ugandan MP Medard Sseggona noted that it was not in the political, social or economic interest of the government of Uganda to interfere in South Sudan.
"We are asking for an explanation as to how the government deployed our forces in South Sudan without consulting and obtaining a parliamentary resolution as required by article 210 of our constitution," he said.
For now, all hopes of a quick and peaceful way out of the conflict in South Sudan rests on talks between representatives of President Kiir and Reik Machar–which is due to begin today.
Several observers have speculated on what the demands of Reik Machar may be in the negotiations. While some have noted that an immunity from trial is likely to be pushed by Machar's representatives, President Kiir has made it known that he will not consent to a power sharing deal.
Photo: A military tank on the streets of Juba. (Reuters/Hakim George)