Al Shabab Attack Top Hotel in Mogadishu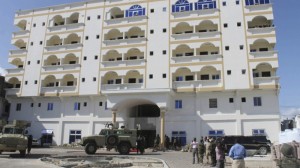 An attack outside a renowned hotel in Mogadishu on Wednesday evening has killed at least 10 people and injured close to 20, according to reports.
Officials say two car bombs went off in front of the Jazeera Palace Hotel, only a few minutes apart. The second explosion is reported to have occured as witnesses were attempting to assist victims of the first blast.
According to a report by Al Jazeera, a third blast went off about an hour later as officials were conducting a search of vehicles in the area.
At least four security officers are reported to be among those killed in this failed attack, which Al Shabab have claimed responsibility for. The group is reported to have issued a warning of impending attacks last week.
Reports have emerged that two suspected terrorists were shot down as they attempted to force their way into the hotel after the explosions.
Several pundits have underscored some similarities between this failed attack and the one on Nairobi's Westgate Mall last year.
Meanwhile, Somali security officers have cautioned the public to be on high alert for imminent attacks.
Jazeera Palace Hotel, located about 300miles from the Aden Abdulle International Airport, is one of the top five hotels in Mogadishu.
The hotel, which is heavily patronised by Somali officials and toursists, has been attacked by Al Shabab in the past. In 2012, the hotel came under a similar attack when the former President of Somalia Hassan Sheikh was holding a press conference there.
Despite losing ground to AMISOM and the Somali army, Al Shabab have continued to pose a deadly threat. Only last week, about 11 people, including 6 soldiers, are reported to have been killed in an explosion in a restaurant in Mogadishu.
In a related news, Shabelle Media Network revealed today that Al Shabab militants have taken several civilians into custody in Buale and Sako, middle Juba.
The civilians, who are reported to be employees of Red Crescent and the International Red Cross Society, are accused of working with anti-Al Shabab forces.
Photo: Jazeera Palace Hotel after the failed attack on ex-President Hassan Sheikh in 2012.