Eight More Eritrean Football Players go into Hiding in Kenya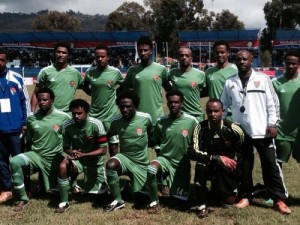 Eight players from the Eritrean national football team and their coach Mr Omer Ahmed have gone into hiding in Kenya shortly after their elimination from the East and Central Africa Football Associations (CECAFA) Senior Challenge Cup.
This comes a week after two other members of the team disappeared from their hotel in Nairobi and are still missing to date.
"We are hiding because police from the Eritrean embassy are hunting us," one of the players who recently went missing told IBTimes UK.
The group is reportedly seeking protection from the UNHCR. "Our main concern is safety, that's why we are seeking UN protection. Once we are protected and safe, we can go to a democratic and safe country," the unnamed player added.
This is the fifth time in a row that the Eritrean national football team has used the CECAFA tournament to escape from their country. Last year, the entire team of 17 players and their team doctor went into hiding in Kampala and began seeking asylum in Uganda. The group ended up living in a refugee camp for a year before they were granted asylum in the Netherlands.
The players have indicated that they are also afraid for the safety of their families back home. Political analysts claim Eritrea has placed a shoot to kill policy against citizens who attempt to escape to neighboring countries. The government however denies that its shoot to kill policy is targeted at fleeing citizens.
Many Eritreans are killed by border guards everyday as they attempt to escape from what rights activists describe as "world's most repressive country." Others are sentenced to hefty prison terms and subjected to capital punishment for being "traitors". Nonetheless, approximately still 5000 Eritrean citizens flee to neighboring countries every month.
Eritrea has not held elections since it gained independence in 1993. President Isaias Afewerki has been in power for the last 20 years as a result of the country's dictatorial one-party rule. The country has also imposed mandatory military service for men and women between the ages of 18 and 55.
Photo: Eritrean National Team with their Coach. [Assenna]