Tullow Abandons Dry Oil Well in Ethiopia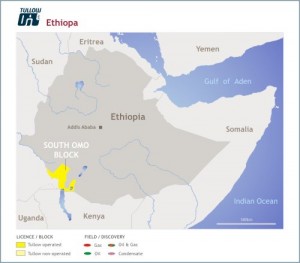 Oil company Tullow Oil PLC has abandoned a well in Ethiopia after failing to find oil despite drilling to a depth of 2,101 metres.
The well named Tultule-1 wildcat, is located close to the Sabisa-1 well in the South Omo block where other oil wells had previously been discovered.  Tullow discovered gas in the new well before they stopped drilling, which confirmed the presence of a hydrocarbon source in the area.
"The results of both the Sabisa-1 and the Tultule-1 wells will now be analysed to determine the future exploration campaign for the area," a statement from the company read. In the mean time, exploration of the Shimela prospect in the eastern portion of the South Omo block will continue until April 2014 when drilling is expected to begin.
Tullow owned 50% of the abandoned well, while Africa Oil and Marathon owned 30% and 20% stakes respectively. The oil giant's shares dropped by 1.1% settling at 889.5 pence early Monday; one of the biggest declines in the FTSE 100.
Tullow has had better success in Kenya where it is currently drilling the Amosing-1 well in Block 10BB, which it intends to continue working on for the foreseeable future. Work is also expected to commence on the neighboring Ewoi-1 well before year ends.
Photo: A map of the South Omo block where the Tultule-1 wildcat well is located.