Egypt to Post Military Attache at Kampala Embassy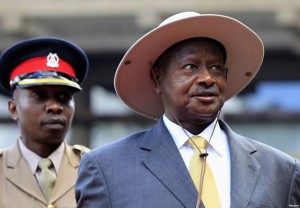 The Egyptian military is due to dispatch an attache to the country's embassy in Kampala, in a move that is expected to enable Uganda benefit from Egypt's highly ranked military prowess, according to a report by The Observer.
The Egyptian Ambassador to Uganda Ahmed Abdel Aziz Mostafa relayed the news last week, adding that the arrangement is currently being finalized. According to him, this development "means Egypt and Uganda are entering a new phase of their relationship."
The Egyptian armed forces, the largest in the continent, is ranked the 14th most powerful in the world. While Ugandan People's Democratic Force (UPDF) is ranked 80th.
Egypt's military, like Rwanda's, has a history of being called on to provide stability by its nation during anarchic times. In June, the Egyptian military stepped in to depose President Morsi, saying he was attempting to convert Egypt into an Islamic state.
Although several critics say the Egyptian military is over-stepping its bounds and risks degrading into a dictatorship, Egyptian officials insist the whole process has been a hundred percent democratic.
Ugandan Army Improvement
Under the arrangement with Egypt, the UPDF is expected to benefit from the exchange of expertise and technology with the Egyptian armed forces—making the UPDF a stronger and much more efficient unit.
Since President Yoweri Musuveni took office in January 1986, the UPDF have had little reasons to interfere in politics. However, the group has waged a long and bloody war against the Lord Resistance Army (LRA) in the north of the country and in neighboring Central African Republic (CAR).
Led by the notorious Joseph Kony, the LRA is accused of committing several crimes amounting to human rights violations in the past decade.
Last week, the UPDF and African Union's regional task force (RTF) revealed that they have killed several members of the LRA, including a senior member of the rebel group, Colonel Samuel Kangu—who is reported to have been a close ally to, and one of the deputies of Joseph Kony.
Photo: Ugandan President Yoweri Musuveni.