Transparency International Ranks Rwanda the Least Corrupt Country in East Africa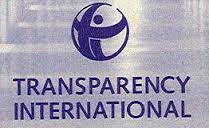 Rwanda has retained its position as the least corrupt country in East Africa for the second year running, according to the latest Transparency International (TI) Corruption Perception Index.
The annual report by the Germany based organization ranks 177 countries worldwide based on estimated levels of corruption of their public institutions, according to opinion surveys and assessments by experts.
The 2013 Corruption Perceptions Index (CPI) was released in Kigali and placed Rwanda as the fourth most transparent country in Africa and among the top 50 in the world. Botswana, Cape Verde, Seychelles were respectively also ranked the most transparent and least corrupt countries in Africa.
In the east African region, Rwanda was ranked 53rd, Tanzania ranked second at 111th, Kenyan follows at 136th, while Rwanda and Burundi are placed at 140th and 157th, respectively.
The report identified Burundi's Revenue Authority as the most corrupt organization in the East Africa, the Burundian police force followed in second place and Kenyan police came third on the list.
"The corruption Perception Index 2013 demonstrates that all countries still face the threat of corruption at all levels of government, from the issuing of local permits to the enforcement of laws and regulations," said Huguette Labelle, chair of Transparency International.
Marie-Immaculee Ingabire, the chairperson of Transparency International Rwanda said although the country has been doing its best to fight corruption, a lot still has to be done. She noted that "It has repeatedly been revealed by surveys that Police, especially Traffic department, remains one of the most vulnerable institutions in the country."
Earlier this month East African Community (EAC) set a common market scheme in motion, this initiative is expected to increase trade among members countries. Transparency International has cautioned the  EAC member states that the disturbing levels of corruption could mar the prospects of a thriving common market.
In other news, Somalia scored just 8 points in the latest Transparency International report, and has been rated the most corrupt country in the world.