UN Donates to Assist Ethiopians Returning from Saudi Arabia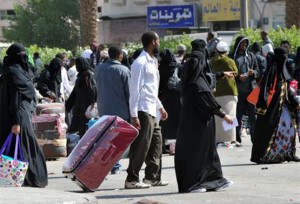 The Ethiopian government has revealed that the United Nations High Commissioner for Refugees (UNHCR) has donated $100,000 to support efforts to repatriate Ethiopian nationals from Saudi Arabia, following the Saudi government's directive to expel all illegal immigrants in the oil rich nation.
Since the mass evacuation began in the second week of November, about 100,620 migrants have been repatriated according to Ethiopia's Foreign Minister Tedros Adhanom. He also revealed that all Ethiopian nationals at evacuation centers in Saudi Arabia's capital Riyadh, have been flown to Ethiopia.
About 50,000 to 80,000 Ethiopians are estimated to be in other evacuation centers in Saudi Arabia, awaiting repatriation. The government says the mass evacuation exercise is expected to be completed by the middle of this month.
Ethiopian officials have revealed that the government is collaborating with the International Organization for Migration (IOM) and the United Nation's refugee agency (UNHCR) to conduct the repatriation exercise. Currently, about 13 flights are reported to run between Addis Ababa and Saudi Arabia, transferring about 7000 Ethiopians daily.
The money donated by the UNHCR is expected to be used to assist the returnees resettle in Ethiopia. The UNHCR also donated about $26,000 to support a media campaign aimed at raising awareness against human trafficking and illegal migration.
The IOM has made an appeal for about $13 million to assist 120,000 Ethiopian returnees from Saudi Arabia, according to a report on New Business Ethiopia. The organization revealed that it had already generated about $2.5 million through the Humanitarian Response Fund and Central Emergency Response Fund, but noted that more is needed.
The IOM says each of these returnees are provided with water, food, clothing, basic medical and psychological care, temporary accommodation, a minimum allowance and transportation to their respective destinations in the country.
Africa's second most populous country has struggled to deal with the mass migration of its citizens to Arab and European countries in search of employment despite notable improvements in the Ethiopian economy. Pundits say eventually the government's schemes will translate into jobs for the ordinary men and women of the country.
Photo: Ethiopian nationals await to be repatriated from Saudi Arabia. [Tigrai Online]