UN Cautions Burundi Ahead of Constitutional Review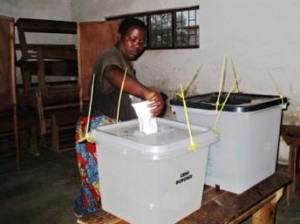 The United Nations has asked all political parties and other stakeholders to exhibit restraint ahead of the country's controversial constitutional review, according a report by the UN News Centre.
Burundi has had a long record of internal instability since the country's independence in 1962. Wars between the Hutu and Tutsi ethnic groups have led to the death of over 200,000 people. In 2000, the Burundian government entered into a treaty with several rebel factions in the country to bring an end to years of war.
However, the country has experienced major conflicts since then, and many opposition groups in the country accuse President Pierre Nkurunziza of backing out of the Arusha Peace and Reconciliation Treaty.
According to reports, after the disputed 2010 national elections, which the opposition boycotted, the leading National Council for the Defense of Democracy – Forces for the Defense of Democracy (CNDD-FDD) has virtually operated a single party system, illegally repressing the opposition—who have since united under a single party, the Democratic Alliance for Change (ADC).
The opposition and human rights groups accuse the leading CNDD-FDD of illegally arresting and killing opposition members, forcing many of them to go into exile. The government is also accused of carrying out constitutional changes behind closed doors, which, among other things, they say would allow President Pierre Nkurunziza rule for a third term.
According to a report by Africa Review, the planned constitutional changes has the potential to tilt the country's balance and revive slowly-healing ethnic rivalries. The constitutional review would also allegedly reduce the amount of votes needed to pass a bill in the Burundi parliament from at least two-third, to a simple majority, effectively handing over power to the Hutu-dominated government. In addition, the report suggests that the planned constitutional review will reduce the power of the Tutsi vice president–further weakening the power of the almost defunct opposition.
In a statement released yesterday, BNUB commended the Burundian government's attempt to promote dialogue ahead of the constitutional review. Adding that the BNUB "urges them [all parties] to participate effectively in the planned inclusive consultations in order to express their concerns."
Many stakeholders have noted that the government needs to do more to clear the cloud of uncertainty and create an inclusive political atmosphere ahead of the country's crucial elections in 2015.
Photo: A woman casts her ballot in Burundi in 2010. [AFP/Esdras Ndikumana]