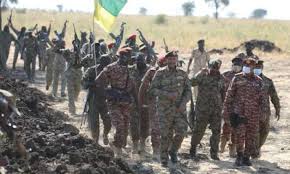 Fighting between government, TPLF forces continues at Ethio-Sudanese border
Fighting between the Ethiopian army and troops loyal to the Tigray People's Liberation Front (TPLF) at the Ethio-Sudanese border has continued for the seventh day with reports that three fortresses of the Tigrayan forces were destroyed.
The fighting has been taking place at a place called Bereket Alew after the TPLF forces launched an offensive on the Ethiopian army, aiming at penetrating and gaining grounds in Wolkait-Setiti Humera zone in Amhara region.
According to information reaching Zegabi.com, the TPLF and other forces established a military camp at Bereket Alew where they receive training and logistic support from Sudan and Egypt.
Witnesses said the Tigrayan forces in Sudan are getting military support from other parts of the world through former TPLF officials including Seye Abrha and General Abebe Tekele-Haimanot.
The information unveiled that the federal forces are taking massive operations in a counter offensive against TPLF and allied forces there.
Meanwhile, the Ombudsman called the way the Federal Government Examination Agency handled complaints over Grade 12 result undemocratic. The issue has mainly affected students from Afar and Amhara.
The Ethiopian Institution of the Ombudsman earlier this week said that it will take the Grade 12 examination result complaints to the Ethiopian parliament if The National Education Assessment and Examinations Agency fails to address the issues.
The Ombudsman said that the Federal examination agency has to provide a convincing response to the complaints of students.
More than 20,000 students filed complaints about the result. While the agency admitted that there was an error during grading the exams, it changed the results of about 599 students only.