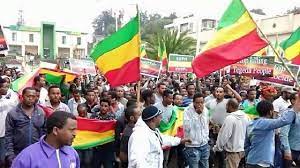 Multiple demonstrations hit streets of various cities in Ethiopia's Amhara region over national exam results
Multiple demonstrations hit the streets of various cities in Ethiopia's Amhara region calling for annulment of last year's 12 grade national examination.
The tens of thousands of demonstrators said the latest results of the Ethiopian Secondary School Leaving Examination (ESSLC) are one of the showcases of ongoing conspiracy politics against the people in the Amhara region.
The protests were held despite bans by the regional government which was accused of collaborating with the Oromia Prosperity Party dominated federal government and making no significant efforts to nullify the result.
The angry demonstrators also demanded the Amhara Prosperity Party to refrain from killing, detaining and intimidating members of the Amhara Popular Force also called 'Fano Fighters' who played a greater role in defeating the invading Tigrayan forces.
The demonstrators also called for justice for those ethnic Amhara people who have cold-bloodedly been killed by the military wing of the Oromo Liberation Front (OLF) in the country's Oromia region.
The 0ver 16 months conflict between the federal government and the Tigray People's Liberation Front (TPLF) worst affected the Amhara region leaving the students in the region unprepared for the examination.
A week ago, twenty thousand students, largely from ethnic Amharas, complained over the downgrading of their exam results for the secondary school leaving examination.
The complaints came after more than 85 percent of the 150,000 total students who are eligible to join the 43 universities across the country are proved to be ethnic Oromos.
The complaints were that the National Education Assessment and Examinations Agency was probably involved in deliberate malicious practice with the aim to harm students from the Amhara region.