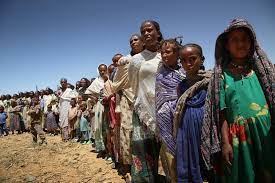 Thousands of people flee homes from Ethiopia's Tigray region as hunger deepens
Thousands of people have continued fleeing their homes from Ethiopia's Tigray region as hunger deepens due to the conflict between the regional force and federal government.
Zegabi.com has confirmed that there is a large-scale displacement of Tigrayan people to the neighboring Amhara region, in search of food and medicine.
The Amhara regional government has faced critical problems to provide food and medicine to the needy refugees since hospitals and crops were either destroyed or looted by the Tigrayan forces while controling part of the Amhara region late lat year.
The Tigrayan forces also had killed livestocks in north and south Wello of Amhara region when they controlled at least 600km deep in side Amhara region.
The Amhara regional government has kept the refugees in police stations to avoid entry of insurgents from TPLF forces but the situation has become beyond its control, according to local reports.
Thousands of Ethnic Amharas are also subjected to untold sufferings in TPLF held areas including in Waja Timuga . The displaced Amhara people have no access to food aid, unlike the Tigrayan refugees.
Meanwhile, the Tigray People's Liberation Front (TPLF) has launched the fourth round of offensive in the neighboring Afar region of Ethiopia.
The Tigrayan forces have carried out coordinated attacks especially in Adodo and Adogo towns where they were met with strong resistance.
Information reaching Zegabi.com revealed that the TPLF forces have been advancing using human wave-war strategy but many of their troops were killed by skillful Afar fighters.