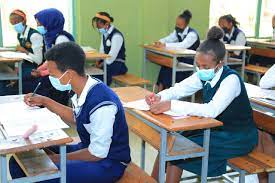 20,000 students complain over downgrading of secondary school leaving examination
Twenty thousand students largely from ethnic Amharas have complained over downgrading of their exam results for the secondary school leaving examination.
The complaints came after more than 85 percent of the 150,000 total students who are eligible to join the 43 universities across the country are proved to be ethnic Oromos.
The complaints were that the National Education Assessment and Examinations Agency was probably involved in deliberate malicious practice with the aim to harm students from the Amhara region.
The agency, a federal agency, confirmed that over 20,000 complaints were filed regarding the result of the grade 12 leaving examination – with which the government selects those students who will join in 43 Universities across the country.
While admitting the problem, the agency claims that only 559 students were affected due to what it called a " grading problem," and that they have been fixed.
That was discovered during an investigation after grading has been completed. But the issue seems to be much larger than that, and it could even be motivated by hate based ethnic politics from what many in social media are writing.
The Ministry of Education says it will not make an adjustment to the benchmarks for results that determine whether a student will join university or not. Samuel Kifle, State Minister in the Ministry of Education, says the result of students in the parts of Ethiopia where there was a security incident is not different from those previously administered.
He is making claims that there was no finding from the Ministry's analysis that calls for a special consideration for the areas impacted by the war.