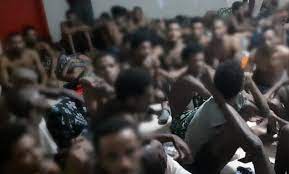 Ethiopia to repatriate more than 35, 000 citizens from Saudi Arabia
Ethiopia set to repatriate more than 35, 000 citizens from in Saudi Arabia.  All the 35,000 migrants have been registered for repatriation,according to  Ethiopia's Ministry of Foreign Affairs (MoFA).  
The government recently announced a repatriation plan to bring back over 100,000 Ethiopians from the Gulf Nation until end of 2022.
So far, "more than 35 thousand Ethiopians in Saudi Arabia have registered to get back home," Ambassador Dina Mufti, spokesperson of the Ministry of Foreign Affairs during a press briefing on Thursday.
Preparations to bring them back from Saudi Arabia have been finalized, said Ambassador Dina.
Despite the recent drop in illegal migration, reports say many from the East Africa region in general and Ethiopia in particular risk their lives making the dangerous journey via Yemen in the hope of finding jobs in Saudi Arabia.
Most, however, end up either stranded in Yemeni or Saudi Arabia's detention centers due to illegal entry.
Official estimates put the total number of Ethiopians residing in Saudi Arabia to be 750,000. About 450,000 of them are suspected of living there without proper legal documents.
The nation airlifted tens of thousands of detained nationals in 2021 with the support of its partners.
"The large returns are the product of an initiative of the Government of Saudi Arabia aimed at reducing unemployment by tightening its immigration policy," reads a UN migration agency report.