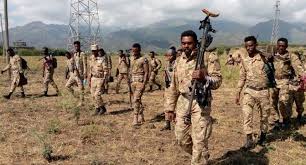 Amhara Special Forces complain over unpaid salaries
Troops of the Amhara Special Forces in northern Ethiopia have complained over unpaid salaries for undisclosed reasons.
The troops, who are members of the Tekeze Brigade, said they have not received salaries for three months from the regional government.
The Tekeze Brigade have fought forces of the Tigray People's Liberation Front (TPLF) and managed to push back their multiple and wide ranging invasions.
The Amhara regional government denied about 200 representatives of the Tekeze Brigade passage at Addis Zemen town as they were heading to file their complaints in Bahir Dar, capital of the Amhara region.
The regional administration has commented yet but the activists say the denial is part of the conspiracy to weaken the Amhara Special Forces at Wolkait front.
Meanwhile, local reports say the Ethiopian air force bombed an airplane which was allegedly smuggling weapons from Sudan to Shire, one of the towns of Tigray region.
Those Tigarayn displaced people who are arriving Amhara region said at least two huge airplanes that have been taking off from Sudan have been landing every day in Shire and Mekelle, capital of Tigray region.
According to the Tigrayan refugees, the airplanes have been smuggling weapons to the embattled Tigray region during night time.
In another development, at least 12 people were killed in Chilga town of Amhara region amid conflict between regional security forces and Amhara Popular Force otherwise called 'Fano.'
The cause of the conflict is known yet.