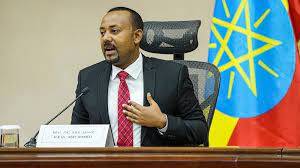 Government looking for lasting solution to ownership of Wolkait, Raya zones – PM Abiy
Prime Minister Abiy Ahmed said his government is looking for a lasting solution to ownership and identity issues over Wolkait-Tegede and Raya zones and the people living there in northern Ethiopia.
Responding to questions on the crisis in Wolkait-Tegede and Raya zones during the just ended first congress of the ruling Prosperity Party (PP), Abiy said the identity question of the people in Wolkait was there even before the PP came to exist four years ago.
The people living in the two zones claimed that they are ethnic Amharas but annexed to Tigray Regional State in 1991 by the then powerful Tigray People's Liberation Front (TPLF) which is currently fighting the federal government and Amhara region.
People living in the two zones formed Wolkait Tegede Amhara Identity and Raya Amhara Identity committees and have been struggling to regain their identity for several years.
The people in the Wolkait Tegede have started to administer themselves following a counter offensive launched against the TPLF forces back in November 2020.
The people in Raya have been undergoing severe hardship and subjected to continuous displacement, fleeing unfolding attacks by TPLF forces since November 2020.
Recalling that the people in the two zones have been struggling before the PP came to power, Abiy said TPLF had rejected the mediation by Administrative Boundary and Identity Issues Commission.
The premier said the identity and land ownership issues should be resolved without fighting and shooting one to the other.
The premier claimed the fighting with TPLF has lessened in Amhara region but is still active in Afar region. He said the government will use all possible means to stop the fighting with TPLF and resolve the conflict peacefully for the sake of the people of Tigray.